Discover more from National Road Magazine
The best place is the world.
A Casual Colts Customer
Like a lot of Hoosiers my age, our lives are somewhat enmeshed in the mystique of the Colts.  But ever since the team parted ways with Peyton Manning, my attitude about the Colts--and professional sports as a whole--has changed.
[dropcap]W[/dropcap]hen Bob Irsay threw his last pair of shoulderpads, his last handful of dumbells, and that leftover stack of horseshoe helmet stickers into his Mayflower trucks and rolled the Colts out of Baltimore, I was a 15-year-old high school sophomore.  When I woke up the next morning and found out we had an NFL team, I was ecstatic.  I watched every game that first season, most of them on my grandfather's 21-inch RCA, the rest on my black-and-white 13-inch General Electric.  I remember many isolated details from that first season.  I recall quarterback Mike Pagel (who coincidentally wore #18 on his jersey) making this wild-ass sideline pass before stumbling out of play himself.  I remember the weird free-kick from the middle of the field versus the Patriots—an obscure rule which none of the fellows in the booth could explain.  I also remember New England racking up 50 points that night…ugly.
The Colts would finish that year with a 4-12 record, but thanks to the even more pathetic efforts of the 2-14 Bills, they managed to avoid last place in the AFC East.  But the record didn't matter.  The Colts were here.  We had a team.
We can all recount the highs and lows which followed:  the '87 playoff appearance, Jeff George, Jim Harbaugh, the "slippery substance" on the football, Peyton over Leaf.  Eddie George stealing the playoffs, the Steelers doing it again three years later, the Patriots doing it all the time.  The Addai touchdown in the AFC title game, Rex Grossman, the onside kick…all of it emblazoned in our brains.
[divider style="solid" top="20" bottom="20"]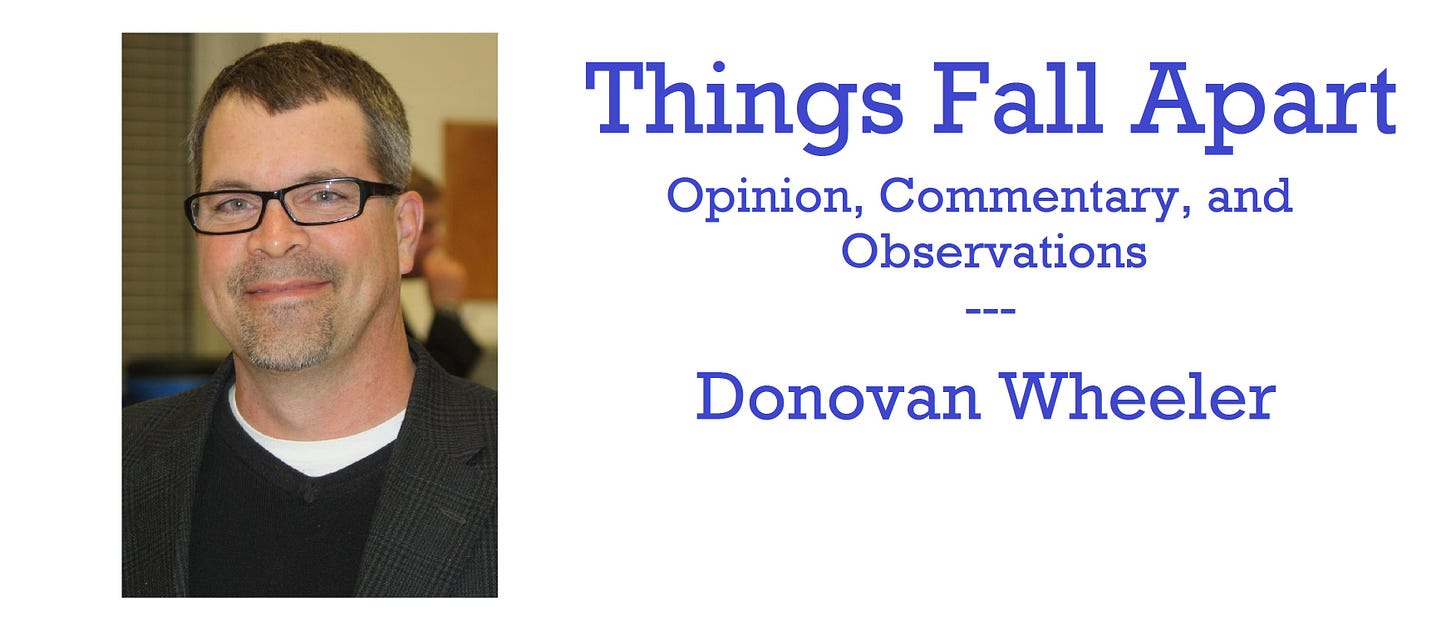 [divider style="solid" top="20" bottom="20"]
[divider style="solid" top="20" bottom="20"]
But when Peyton Manning went AWOL in 2011, and then parted ways with the Colts after the season ended, that was it for me and the NFL.  While most of my friends spent the next four years wearing those weird half-Colts/half-Broncos jerseys, I turned to Netflix, and books, and writing.  It's not that I never watched another game again.  I saw the Super Bowl when the lights went out—apparently the worst thing to happen in the Super Dome other than…you know…that storm a few years ago.  I watched Andrew Not-Much-Luck play abysmally in a playoff game.  I remember when Pagano got sick, and when his backup coach briefly gave Andrew some of that Luck.  But I didn't watch all the games.  I didn't follow every down.
Because, when Peyton left (or when Irsay dumped Peyton…as if figuring out who to blame even matters), I realized the singular truth about professional sports, something I have written before in a similar piece about the Pacers:
"Professional sports, I realized, were essentially like prostitution. The owners are the pimps, the athletes work the streets, and the fans pay for the good time. The problem is that we keep falling in the love with the prostitutes, and sooner or later, we painfully realize that the whole thing was nothing more than a business arrangement."
[divider style="solid" top="20" bottom="20"]

[divider style="solid" top="20" bottom="20"]

[divider style="solid" top="20" bottom="20"]
As I also said in that older column, when I look at "Indianapolis" painted into the end of the football field, what I'm really looking at is a corporate logo.  It might as well say, "Irsay."  And when I walk by Lucas Oil Stadium, I don't see "The House that Peyton Built."  I see the house that Irsay extorted from Hoosier taxpayers.  I see a monument to a man whose greatest business accomplishment was inheriting a professional football team from his peculiar late father.
Right now the Colts are going through a rough year, and all my friends are filling up my Facebook wall exhorting the sins of Pagano and Grigson.  Apparently the Colts' defense is sieve-like, and their offense borders on impotent.  But I've realized that getting angry about the performance of a bunch of professional athletes—most of whom have no long-term connection to Central Indiana—is similar to losing your mind over the quality of the Batman vs. Superman movie.  We can convince ourselves that we have a major stake in the investment.  We can even take Irsay's and Grigson's and Pagano's (and Zack Snyder's) decisions as personal affronts.  But the truth is we really don't matter.  They're going to do what they're going to do, and my emotions are too important to me to put in the hands of people like them.
None of this means that I'm boycotting the league, or that I won't go to another game (or another bad superhero movie, to extend the metaphor) sometime in the future.  Nor does any of this mean that I begrudge my friends and neighbors who still count themselves among the Colts' legion of faithful fans.  If that's what makes them happy, then I wish them all the joy the team can bring them.  But my Sundays spent pacing the living room in exuberant glee or crestfallen despair are over.  Andrew Luck will never hold my attention, nor my heartbeat, as Peyton once did.
I have no problems calling myself and Colts consumer, or a Colts customer.  If they offer a good product for a good rate—something worth the time and additional costs for travel, parking, and dining—then I'll certainly partake.  But I will never again be a Colts fan.  If they make the right moves, they could one day have my money, but no matter what they do, they will never again have my heart.
[divider style="solid" top="20" bottom="20"] [author title="About Donovan Wheeler" image="https://scontent-yyz1-1.xx.fbcdn.net/v/t1.0-9/307578_4223941231929_2094026153_n.jpg?oh=0f366b562fa8da457ace0cb0895df8be&oe=584932FF"]Wheeler proudly teaches AP Literature and AP Language to some bright and lovably obnoxious kids in a small college town. He is the senior editor for the craft beer website Indiana on Tap and writes for ISU's STATE Magazine. Since putting in a pool he can now dive in head first (with goggles), and he has mostly stopped throwing golf clubs, but he still hates to fly.[/author] [divider style="solid" top="20" bottom="20"] Featured Image Information:  "Andrew Luck in the pocket vs. the Baltimore Ravens during a Wild Card Playoff game January 6, 2013" by Mr. Schultz is licensed under the Creative Commons Attribution-Share Alike 3.0 Unported.