Discover more from National Road Magazine
The best place is the world.
Baseball Days
In the spring of 1991, I covered the Indiana State University baseball team.  In the process I watched them record one of their greatest wins--an obscure afternoon game in Bloomington which few people remember.
[dropcap]A[/dropcap] couple weeks ago, while sitting at my desk, I gazed out my window and watched the sky spit wisps of early March snow.  It seemed fitting at the moment.  Almost 28 years ago to the day I gazed through a different window—the press box at Indiana State University's then Sycamore Field—and looked upon same kind of weather.
I was an English major covering the baseball team for the school paper.  I had signed on to write for The Indiana Statesman shortly after the spring semester began.  You could say I did it on a whim.  But I've learned that whims don't really exist.  What really prompted me were the small ads, tucked into the bottom corners of the newspaper, which seemed to personally tell me that I could "Write for the Statesman."
Back then too many students made jokes about those little ads, their condescension oozing between their teeth.  In those days, ISU suffered from a noticeable inferiority complex.  For one, multitudes of students traversed the campus in IU and Purdue sweatshirts (serious multitudes).  Then there were the nights when my schoolmates would skip the games at Hulman Center so they could watch Knight or Keady on ESPN.  And all of this was neatly sandwiched by loaves of snarky self-deprecation—a veritable arsenal of "woe is me…stuck at ISU" uttered by one cynical student after another.
Like those ISU peers, I carried around similar insecurities.  I wasn't feeling that self-loathing vibe, however.  Instead my ire went straight to the snobs themselves.  For me the grudge started in junior-college, when I journeyed to Bloomington from Vincennes in the middle of a rainy, autumn school week.
I had chauffeured a buddy who was trying to win back an old flame (it didn't pan out).  She was studying, and I was pacing about her apartment.  I had my own school work to do, after all.  She asked me if I, like my friend, also went to Vincennes.  I nodded, and she let slip that all-too-familiar smirk.  I would see it again too many times when I transferred to State. In the Purdue managers' faces when they helped us set up on the visitors' sideline at Ross Ade Stadium.  In a friend's face back home when we watched the Sycamore cagers drop a 50-point decision to IU in Assembly Hall.
So, while others laughed at the paper's requests for writers, I joined up.  Why not?  I had already pulled a similar stunt the year before, when I walked into the football coaches' office and announced that I wanted to work as an equipment manager.  It turned out to be a great gig.  I earned a nifty letter jacket.  I gathered a host of perfect memories.  I even caught a forward pass from Sean Payton…with my face.
[divider style="solid" top="20" bottom="20"]
[divider style="solid" top="20" bottom="20"]
[divider style="solid" top="20" bottom="20"]
Opening Day
[dropcap]E[/dropcap]ven though I was covering the first home game of the season, I wasn't the baseball guy. That belonged to The Statesman's senior writer, a kid named Patrick Martin.
If you want to get technical, I was actually third or fourth in the paper's baseball pecking order.  Luckily for me, however, the number two guy usually wasn't able to keep a scorebook or take notes…mostly because he actually played on the baseball team. His name was Mike Farrell. He was pitcher by trade…and when I say "he was a pitcher" what I really mean is he was the pitcher.  The…guy.  With more starts than any other hurler on the team, Mike tossed a sub-4 ERA that season.  If you've ever watched much college baseball, you know that the only way you can throw a number that low is to pitch for about one inning and hope the batter is crashed out on one of those plastic Adirondack chairs.
Mike didn't spend all his time in the bullpen, either.  He played his share of first-base (and a few other spots on the field), and he could bat like a beast: a solid .320 with 64 hits, 27 RBI's, and three dingers to boot.
But on that early March Saturday, I barely knew who Mike Farrell was.  What I did know was that it was cold.  Frigid…as in "still legally winter" according to most rule books.  Of all of college baseball's dazzling idiosyncrasies, the most mystifying is the fact that the season begins when the icicles still hang from the dugouts and ends a few weeks after the pros have just gotten started.
ISU squared-off against an obscure school that day, Wisconsin Parkside or something like that.  According to the official records 75 people attended that game, but it seemed to me like I could count everybody in the stands on my hands.
"Not many out there," I said.
"You should've been here a few years ago," Tom James said.  The Assistant Sports Information Director at the time, Tom was the most loyal of Sycamores. People use the expression "bleed blue" to describe guys like him, but even for Tom that seemed beyond an understatement. Slice open Tom and you wouldn't get blue blood.  You'd get a deep indigo paste glistening with microscopic ISU logos.  There's casual interest in The Trees, there's loyalty to The Trees, and there's Tom James.
"What happened a few years ago?" I asked.
"One guy in the stands," James answered.  Chuckles echoed among the rest of the crew in the press box. "When we announced the starting rotation on the PA that day we said, 'Sir, your lineup today is…'"
The chuckles accelerated to full-on laughter.  A couple hours later Tom would get a new story to tell. Sometime around the third inning the PA announcer—a DJ for Terre Haute's WPFR—reminded those 75 spectators that hot coffee was available in the concession stand.
"But if you don't like coffee," he said, "you can buy some anyway and pour it all over yourself. That should get you through two more innings."
[divider style="solid" top="20" bottom="20"]
Of all of college baseball's dazzling idiosyncrasies, the most mystifying is the fact that the season begins when the icicles still hang from the dugouts and ends a few weeks after the pros have just gotten started.
[divider style="solid" top="20" bottom="20"]
[ads2]
[divider style="solid" top="20" bottom="20"]
On the Big Campus
[dropcap]S[/dropcap]ix weeks and a half-dozen by-lines later, I sat over home plate at IU's Sembower Field in Bloomington.  Below me Bob Warn's Sycamores and Bob Morgan's Hoosiers warmed up for a single-bill match-up.  In my bones I felt that ISU was the better team, but IU's "bigness" worked its way into my skin.  Doubt followed.  Like a well-trained mid-major student, I reminded myself to temper my expectations.
The Sycamores charged out of the opening innings that afternoon, snagging a big lead early.  That I remember.  I also recall right fielder Brett Szynski launching himself across the foul line, making a sliding catch in the process.  Lesser players would weigh the options and back off.  Just let it drop.  Szynski wanted the out.  I think he wanted it for the same reasons I did.
The greatest moment, however, happened mid-game.  In the top of the 5th, ISU found itself nursing a 5-3 lead.  The Hoosiers had loaded the bases with no outs on the board.  I don't remember who started on the mound.  I don't remember if anyone pitched any relief work before the 5th.  I just remember that 5th inning.  I remember watching the game fall apart.  I remember watching the big school getting ready to win…like big schools always do.  And I remember Bob Warn pointing to the man he wanted to save that game.
He pointed to Mike Farrell.
Warn didn't have to burn his starter's arm on that inning.  The games that matter were the conference matchups.  Win those Missouri Valley battles and make a run at the World Series.  But when Farrell walked to the mound, I realized that I wasn't the only one who badly wanted this win.
Some 20 pitches later, Farrell struck out the side.  The Sycamores would hold the lead the rest of the way.
[divider style="solid" top="20" bottom="20"]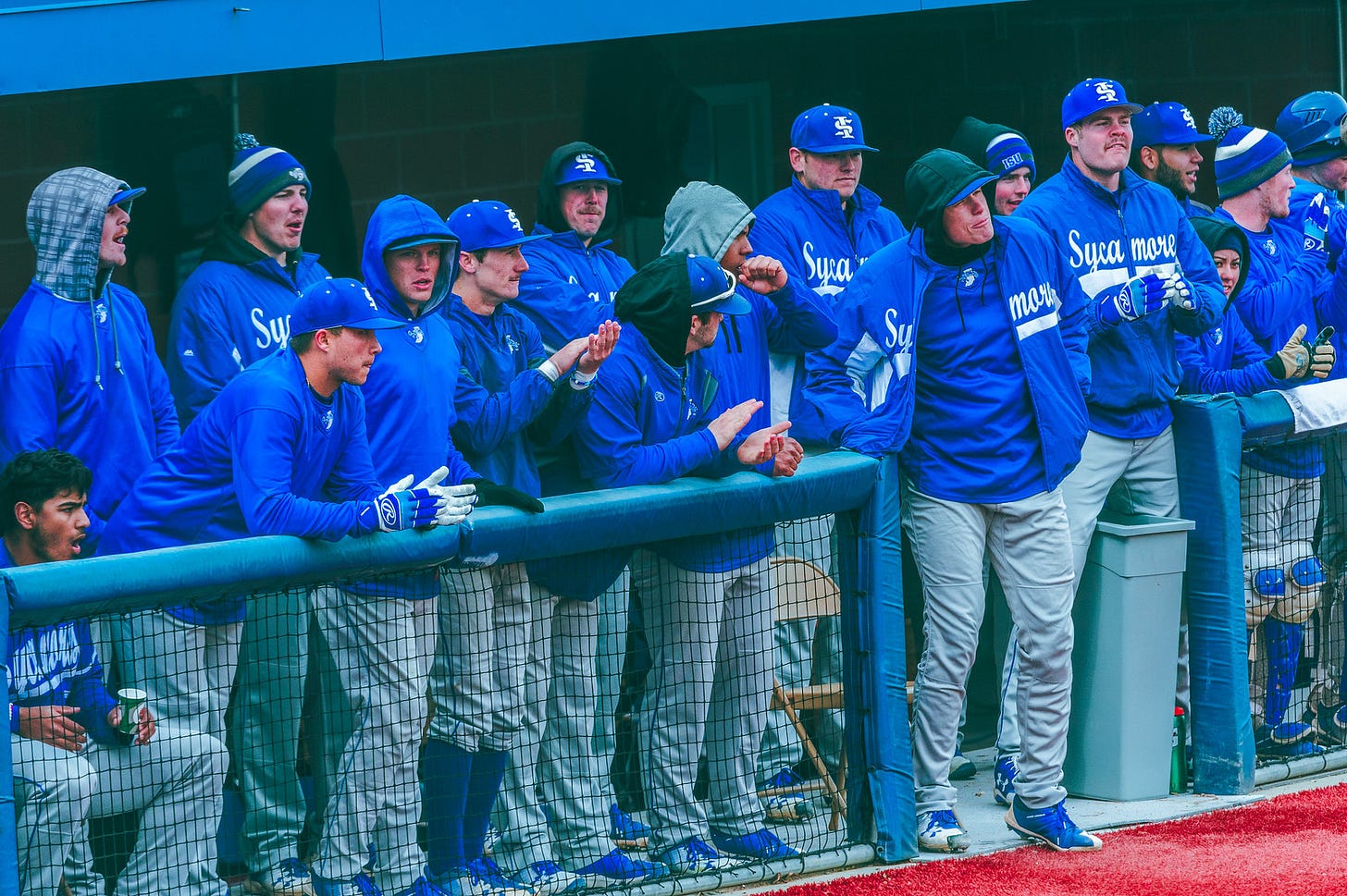 [divider style="solid" top="20" bottom="20"]
[ads1]
[divider style="solid" top="20" bottom="20"]
Chatting Up with Warn
[dropcap]B[/dropcap]ob Warn was definitely a no bullshit guy. When you had questions about the game you had better know what you needed to ask. But even though he didn't have a lot of time to spare he could be kind.  Fatherly, even. And I think that's the thing about a man like Warn. He sort of viewed his job more along the lines of a college professor. He knew he was dealing with young people, players and reporters alike.  I kind of think he thrived on that.
He waited patiently as I fumbled with my questions.  When I asked him about Szynski's catch he spoke excitedly.  He spoke earnestly about John Trisler's work as the team's closer.  And he couldn't say enough about Farrell.
Warn always caught a lot grief from critics.  They said he was too strict.  I'll admit, the rumors seemed a tad draconian: no long hair, no off-campus housing, and no bars—even in the off-season.  Maybe he would have won more games if he'd gone "full Gene Stephenson," landed a Doug Mirabelli, and let the guy spend every Wednesday throwing down Millers at the Ballyhoo.  But he didn't, and I think we were all better off for it…even those of us who didn't play the game.
[divider style="solid" top="20" bottom="20"]
[divider style="solid" top="20" bottom="20"]
Three Decades Later
[dropcap]D[/dropcap]on't ask me why, but I still have a huge stack of Statesman's from my college days—more than two years' worth shoved into a cabinet in my classroom.  But in one of those typically personal ironies, I have lost all the copies which held my by-line.  I guess I was so proud of my own work that I set those papers in a separate pile.  Somewhere along the way they disappeared.
In a couple months I will turn 50.  That young kid who sat in that press box has been replaced by a middle-ager who has learned a lot of hard lessons.  When I think back on that time I don't particularly miss my younger self, but I do miss the world he lived in.  Just today, I tried to describe the early '90s to my high-school seniors: a world that wasn't boxed in by post-9/11 fears or by post-Great Recession anxieties.
Despite those modern touchstones, some of that old excitement still lives.  Right now, for example, the Sycamores are 13-1.  They've even beaten Purdue (thank God).  I haven't been to a game since my days in school, but something tells me that this is the spring when I should finally get back to that diamond.  Back to the sport we've always been good at.  Back to the place where ISU earned its dignity—one hustled effort, one beaten throw to first, and one sacrifice fly at a time.  But most importantly, I'm itching to return to the place where the future still seems bright and all the dreams that young writers carry in their heads have a very real chance of coming true.
[divider style="solid" top="20" bottom="20"]
[author title="About Donovan Wheeler" image="https://coachnobodydotcom.files.wordpress.com/2015/01/wheeler-bit.jpg?w=768"]Wheeler proudly teaches AP Language to some bright and lovably obnoxious kids in a small college town. He also contributes to the craft beer website Indiana on Tap and writes for other publications. He started learning to play guitar last fall, but he remains terrible at it. [/author]
[divider style="solid" top="20" bottom="20"]
Photo Credits: Photos courtesy ISU Photography Services. Photos used in accordance with the following guidelines posted on ISU Photography Services Website: "MEDIA/PUBLICATION IMAGES: There is no charge for electronic images supplied to print publications, media outlets or other businesses or organizations that use the images to promote Indiana State University and its programs."