Discover more from National Road Magazine
The best place is the world.
Coming Home: Will Scott's Personal Journey
After more than a decade establishing himself in New York City, Hoosier native Will Scott came home to care for his ailing father.  In the process he is gradually establishing himself as one of the most vocally competent and technically sound singer-guitarists in Central Indiana.
by Donovan Wheeler photos by Narūnas Bukauskas and Jelle Wagenaar
[dropcap]I[/dropcap]t started with a box of laundry detergent.  Over a decade ago Will Scott lived in a basement underneath a New York recording studio.  Citing both his pad's concrete walls and absent windows he aptly described his living situation as "a sensory deprivation chamber.  You spend too much time in that place and you can turn inward.  Then things get pretty weird."   To compensate, he often thumbed through his college copy of Stone's Exhaustive Concordance of the Bible. When he needed a diversion from that, he read whatever else he could get his hands on…cue the detergent box. "That [reading] combination pretty much led me to the Book of Job," Scott explains.  He laughs when he says it.  His is a deep voice, the kind of baritone that doesn't just carry a tune, but defines it.  When you listen to him talk, he's commanding.  When you listen to him sing, he's arresting.  A religious studies and anthropology major at Indiana University, Scott says that his song ideas "come at me from all sorts of different ways."  From that box of laundry soap was born "Stain Lifter," the tune he considers one of his greatest achievements. "I set out to make the song lighthearted and funny…sort of a Tom Waites style," he says.  "But it never quite worked.  I ended up sitting down with [Chris Preacher Boy Watkins], and we rearranged it lyrically.  And what would have been a hilarious title instead turned into one of my favorite heavy songs."  Opening with a smoothly repeating chord, one plucked with deliberate softness, Scott deftly draws from the typical catch phrases you'd find on a soapbox, but he spins them with a reverential and sentimental tone which not only establishes itself from the first verse, but transcends into five minutes of soulful introspection:
Such a sin and I am dirty Oh and yes I bear the stain and although I may be righteous My own mouth may bear me blame Please drop me in the water And scrub me on the stone So I'll be wearing purest white When they call my body home
Like the man said…heavy. While the song speaks to a universal need to find redemption and make peace with the past, it's also a testament to the human ability to endure, to adapt to life's curveballs.  It's a song which proved prescient for Scott when, in 2015, he would have to walk away from his well-established set of musical circles in New York City and return to Indy to care for his ailing father. "We [tell people he has] 'Parkinson's' because it's easier to explain," Scott says.  "But it's actually an undiagnosed neurological disorder possibly related to Parkinson's.  It's one of those things were the doctors will probably never really know what's going on." [divider style="solid" top="20" bottom="20"]
[divider style="solid" top="20" bottom="20"]

[divider style="solid" top="20" bottom="20"]

[divider style="solid" top="20" bottom="20"] Besides the logistical headaches which come with such a move, Scott would spend most of the following year attending to his father's medical, emotional, and financial needs.  The latter, including wading through Medicare and Social Security paperwork amounted to a lost year under the guitar.  By the time he returned to his music, he now found himself in a place which was an old hometown in one sense, but an entirely new home in another. "Until I moved back, I hadn't been out to see all the neighborhoods and all of the changes," he says.  "That's twenty years' worth of progress which I've been catching up on including going out and seeing what Fountain Square and Broad Ripple look like today.  And when you add to that all the craft breweries which have been popping up, it's been kind of exciting.  I honestly didn't expect there would be as much opportunity to perform music as you've got here.  But there has been." Raised in Indy and Chicago, and influenced by both his father and later his step-father (the former a jazz guitarist, the latter a blues man), Scott's development as a picker took off in his youth when his step-father made a fateful purchase. "I got my first electric guitar on my 13th birthday," he says.  "My step-father bought it on Maxwell Street in Chicago for something like $35.  He was very good to show me a few tricks here and there, but then he just stopped.  Instead he gave me a bunch of music to listen to and told me to find my own voice, rather than copy what he was doing."  Scott would spend the rest of his life doing exactly that, a task which he himself admits he will never complete. By his twenties, Scott was living in Bloomington, playing with a blues act dubbed The Forecasters.  It was here where the guitarist began to develop his singing chops, honing his skill literally on the road while commuting from his B'Town apartment to his restaurant job 45 minutes way in nearby Greene County.  Together, The Forecasters produced Too Damn Cold, Scott's first work on a full-length album.  Eventually, however, his time with the band petered out. "I had been playing a lot of Chicago blues…a lot of lead stuff," he explains. "I had been raised on that style, and I got to the point where I was writing more. But I started to feel like that style was limiting me.  So I began to stretch out, playing more solo material, searching for different sounds."  The result is a sound which Scott calls "hill country blues and soul Americana," and while those of us who enjoy his sound could largely care less what label Spotify slaps on it, Scott for his part gets why the label needs to happen:  "I think there's a couple of reasons for it.  I'm not really afraid of being labeled as part of a specific genre of music, especially if people hear it and give me good feedback.  I'm just as comfortable being called a 'songwriter.'  But on the other hand I do think that you have to have that label so that you can give people a sense of what's going on.  'Blues' hints to pieces of the Chicago style and the Texas style, but you add 'country' and they know that I'm going to be mixing other elements into the music as well." [divider style="solid" top="20" bottom="20"] [divider style="solid" top="20" bottom="20"]
[divider style="solid" top="20" bottom="20"]

[divider style="solid" top="20" bottom="20"] With his evolving style under construction, Will Scott's journey would expand, both geographically and metaphysically.  He moved to Los Angeles and found some work on the West Coast, but when he made the choice to follow his girlfriend to New York he didn't hesitate. "Having gone to New York a number of times over that year, I had really come to fall in love with it," he says. "And we're also talking about a time period when there wasn't a lot of interest in the singer-songwriter scene in L.A.  It seems like the interest was much more on the rock band genre, and it wasn't very easy getting bookings for an Americana act in good venues.  But in New York there was a lot of that going around and a great deal of interest in it.  I've said for years that New York is the coolest place in the world to be a hick.  That goes all the way back to Woodie Guthrie showing up in blue jeans and causing a stir.  They are really into diverse music out there.  I think a lot of this is because, as a city, they're not constantly trying to prove how 'urban' they are.  Their thinking is, 'We're as urban as it gets, so let's listen to banjos.'" By the time Scott had settled into the East Coast he was playing multiple venues and even hosting a weekly gig on the north side of Brooklyn dubbed by one magazine as "the best weekly show in New York."  And although he had produced his first individual effort in the form of Solo Electric Blues in 2002, it was his Brooklyn stretch which prompted his two definitive records: Gnawbone in 2009 and Keystone Crossing two years later. Now, of course, Scott is home in Indiana.  For his part, he's happy about it.  First of all, his father is doing well, and he expects him to be a part of his life for years to come.  Secondly, the Central Indiana music scene has proven so encouraging that he sees a promising future back in the Hoosier state. "New York is changing…quite a lot, actually," he says citing a third reason. "There isn't as much of the 'grit' left which was there when I moved there in 2002.  It's filling up with condos, tourists, and wealthy people.  It's really not that welcoming of place for artists.  In fact, Patti Smith put out an article a few years ago telling all the young artists to move to Detroit…and for that matter, I do not miss paying nearly $2,000 in rent, either." Sure, he's still going to make trips back to the Big Apple (his girlfriend still lives there), and he's even planning to eventually make return trips to Europe (where's he's played several times thus far).  But the place where he grew up, the state where he learned to work the frets…this is the place where he's not only very likely to cement his name among the catalogue of musical greats, but it's also the place where he gets to accomplish the most important thing a man can do—whether he's picking strings or laying bricks—he gets to be his father's son.  No matter what happens to Will Scott musically, on that count, he's already a hall-of-fame performer. [divider style="solid" top="20" bottom="20"] [divider style="solid" top="20" bottom="20"]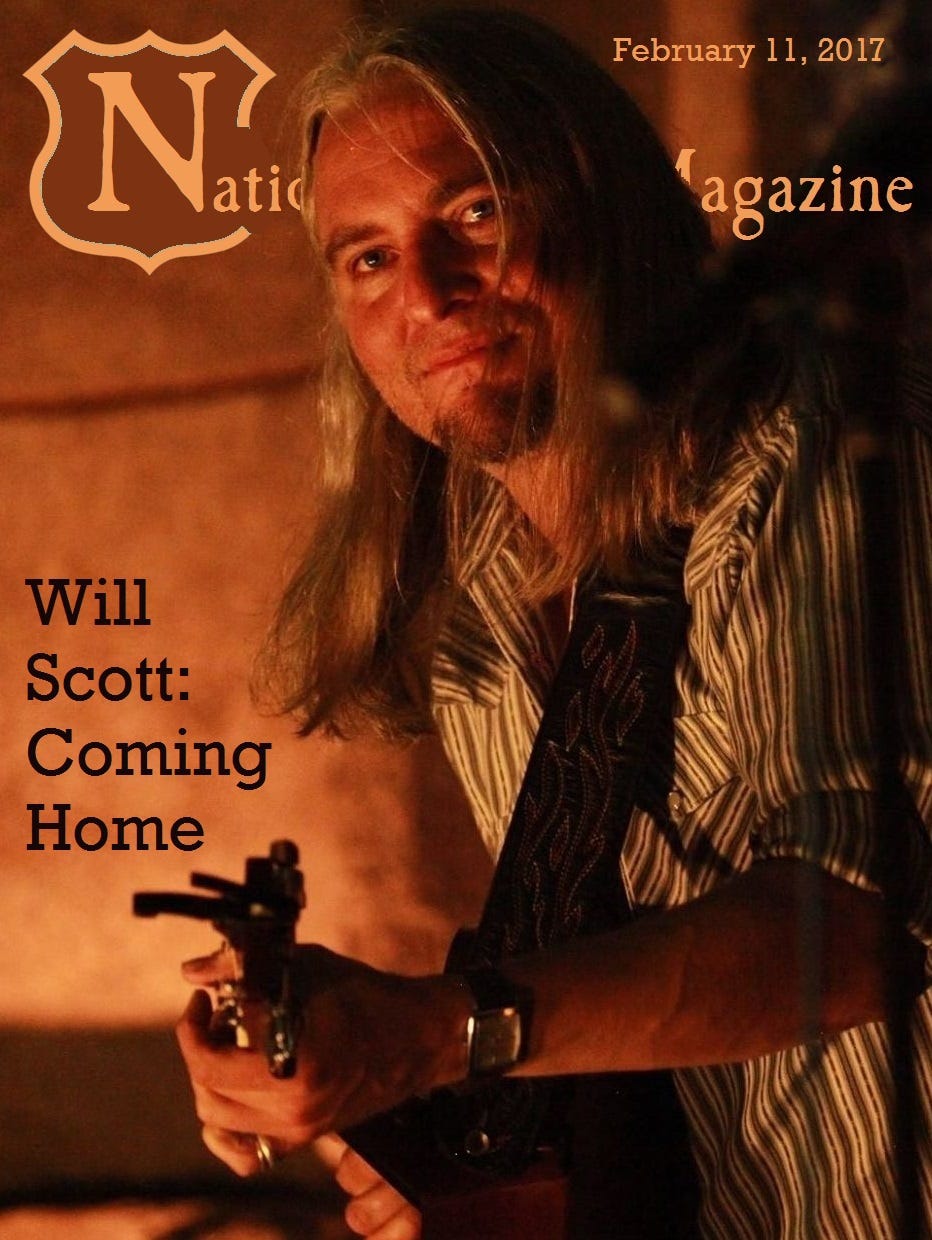 [divider style="solid" top="20" bottom="20"] [author title="About Donovan Wheeler" image="https://scontent-ord1-1.xx.fbcdn.net/v/t1.0-9/13413045_10206476443925016_3719335501835627694_n.jpg?oh=b3c2dd713a7e1d8c1dbbdc8f07189b18&oe=5902C626"]Wheeler proudly teaches AP Literature and AP Language to some bright and lovably obnoxious kids in a small college town. He is the senior editor for the craft beer website Indiana on Tap, and he also writes for ISU's STATE Magazine, NUVO News, VisitIndiana, and the Putnam County CVB. Since putting in a pool he can now dive in head first (with goggles), and he has mostly stopped throwing golf clubs, but he still hates to fly.[/author] [divider style="solid" top="20" bottom="20"]

[divider style="solid" top="20" bottom="20"]