Discover more from National Road Magazine
The best place is the world.
It's All in the Details—Backstage at Blues at the Crossroads, 2018
copy and photos by Mark Wright
Terre Haute's Blues at the Crossroads 2018 is in the books, and from my own eyes and ears and the accounts of the numerous folks I talked to, it was a resounding success.  Nearly perfect weather drew crowds in the thousands, a new arrangement of vendors and services made things run more smoothly, and eighteen talented bands entertained until the wee hours of Friday and Saturday, September 14th and 15th.
While the thousands of spectators wandered in and out the Verve and to their lawn chairs on Wabash Avenue where the main stage was set up, frequenting the food tents and silent disco area and the many vendors, Connie Wrin made sure the dozens of musicians, organizers, stagehands, and support staff mingled behind the stage in an atmosphere of comfort and camaraderie highly praised and appreciated by the performers.
Under a 20x50 tent, comfortably adorned with a dozen tapestries hanging from the walls, were a fully stocked bar, leather couches, tables, and a 30-foot spread of sandwiches from Jimmie Johns, barbecue, potato casserole, green beans, and fixin's from Rick's Smokehouse, pizzas from Azzip and Papa John's, cheese and vegetable trays, fruit, cookies, candy, nuts, snacks, and mints, all for the enjoyment of the performers and staff.  A massage tent was available to performers, a merchandise area was set up next to the magnificent stage, and sound engineer Curt Hall's system was making the bands sound just about as good as possible.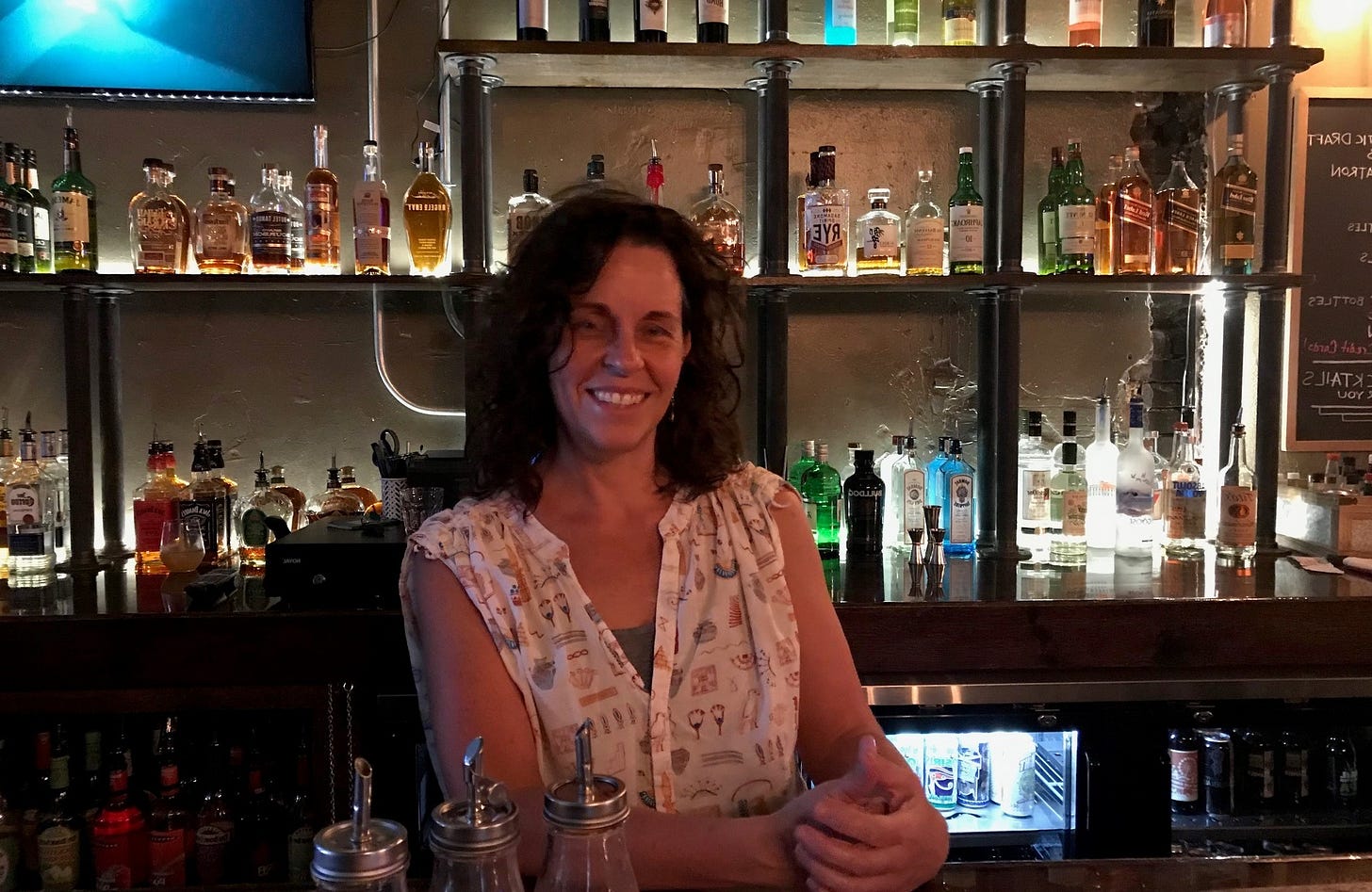 Cheryl Maners was the "Backstage Liaison," charged with maintaining the

regular deliveries of pizzas and sandwiches, keeping all the food trays and beverage
containers filled, and catering to whatever needs the performers had.
"Over the years, I've learned what Connie wants, and these bands have
become my friends." When Cheryl assumed this responsibility some fifteen or so
years ago, ". . .we were so poor we had to buy large blocks of cheese and slice them
ourselves," she recalled not-so-fondly. Cheryl loves the smiles on the faces of the
performers when they see what is available to them backstage. "I love to see them
gather back here at the end of the night, relaxing and enjoying themselves, talking
shop and asking each other gear and performance questions. It's very gratifying."
Performers and staff alike are effusive in their praise of the detail Connie
Wrin puts into making sure they are well taken care of. Stagehand and sometimes-
performer David Goodier, on a brief pause from furiously toting gear on and off the
stage between sets, said, "We try to do the little things that bands think will never
get taken care of. We've hunted down extra drumheads and amps and picks—no
one expects those things to get done, but they do get done."
L. D. Miller, whose Miller Band rocked the stage Saturday night, was the
recipient of a perfect example of "the little things" when Connie came out on the
main stage with a birthday cake for the 25-year-old and led the crowd in singing
"Happy Birthday."
"L.D. has been performing over here at The Verve since he was
seven. He deserves this," according to Connie.
"It's freaking awesome here. I'm happy with a bottle of water, but everything
we want is back here. Nothing is overlooked," L. D. said.
Connie Wrin leads the crowd in singing to L. D. Miller.

High-energy guitarist Kelly Richey, making her 5th appearance at the bluesfest, was clearly elated to be here. "Connie rocks. This is absolutely one of my favorite places to play."

Kelly Richey: "Connie rocks!"

According to Mike Milligan, whose band Steam Shovel wowed the crowd, "This is a big-city concert atmosphere in a medium-sized town. She treats us like rock stars," a sentiment echoed by Dana Dowell, who performed inside the Verve with Jeff Randall.  "I get to pretend to be a rock star for a night."

For Max Allen, the tapestries hanging in the tent are the perfect touch. "I like to put rugs and tapestries down on the stage when I play—it makes me feel more relaxed and comfortable. And those tapestries back there just make me feel at home."
The Max Allen Band.
Two of the events' most popular acts, Freekbass and Eric Steckel, return year after year to play both the festival and at the Verve, in spite of the fact that both of their schedules might tempt them to pass on this gig.  "I have two gigs tomorrow—one in Ohio in the afternoon and another later in West Virginia," Freekbass said. "But Connie makes us feel so excited to play here by the way she treats us."
Freekbass in his "Clark Kent" mode.
And Eric Steckel had to board a plane in Chicago the next day to fly to Amsterdam and begin a 3-month, 8-country tour.  "I generally start my European tour in mid-September, and it usually commences right after this gig. But here I am."
Eric Steckel.

Charles Walker is another grateful repeat performer. "I love that I can get a

massage back here, and that it is 30 feet from the door of the Hilton Garden Inn [one
of the spots where he and other performers are provided rooms] to the steps of the
stage."
As I wandered backstage talking to performers and workers throughout the
festival, I frequently ran into Connie taking care of some detail. I sometimes would
mention to her what someone had just said about how well she takes care of things,
and her typical response would be, "Awww. . . ." with tears welling up in her eyes.
It's truly a labor of love for her. And I think most of the thousands of fans in front of
and the pros behind the stage hope that it continues well into the future.
After almost 40 years teaching high school English—most of them at South Vermillion—Wright now teaches composition part time at ISU. A member of the Wabash Valley Musicians' Hall of Fame, Wright and his Band—The Crowe Committee—have become a popular attraction in the Terre Haute music scene.