Discover more from National Road Magazine
The best place is the world.
March Sadness
I should adopt a perennial winner, like so many of my friends do.  But my loyalty to my Sycamores is written into my blood.
[dropcap]O[/dropcap]n a chilly December night in 1989, I sat in the student section enveloping the baseline at Hulman Center.  My team, the Indiana State Sycamores took a 1-4 record onto the floor to face a Ball State squad destined for a 20-win season, a Mid-American Conference title, and a Sweet-16 showdown in the NCAA tournament.  When the Cardnials arrived in Terre Haute, everyone knew they were good.  Everyone expected they would clean up the MAC (they did), and just about everyone thought they had a shot at a deep run in the tournament (they would, losing to eventual NCAA champion UNLV in the Sweet 16 by a single bucket).  For ISU, however, the expectations couldn't be more different.  A year before, the Trees finished with four wins.  Four.  The year before that they won seven.  Such was the case in Terre Haute for more than a decade: an eleven-year tragedy written in hardwood with the sweat-borne ink of shoe rubber.
Like a good Shakespearian sad story, the most tragic element is that ISU's hoops implosion didn't have to happen.  As everyone knows, in 1979, Indiana State University was riding the kind of wave most basketball teams dream about: 33 consecutive wins, an All-American superstar (drafted into the NBA after his junior year no less), and a ticket with destiny in the form of a title game appearance which stood as the most-watched game in NCAA history for three decades.  Given the manner in which Butler parleyed their back-to-back title-game appearances into national prominence in a power conference… Given the success Gonzaga has enjoyed spending almost 20 years working themselves from obscurity to a number one seed… Given the way which once unknown schools such as Xavier and Creighton have become perennial March Madness participants… ISU's dream season should have sparked a similar wave of recruiting.
But when head coach Bill Hodges began that '79 campaign, he wasn't head coach Bill Hodges.  He was assistant coach Bill Hodges.  A pre-season heart-attack forced out the Sycamores' original head coach, Bob King, and while that short-staffed coaching crew went on to write NCAA history, it proved a history lacking any return on investment.  Without the manpower to recruit effectively, Indiana State University's basketball program pivoted from the threshold of greatness and backpedaled into the fog of mid-major mediocrity.
[divider style="solid" top="20" bottom="20"]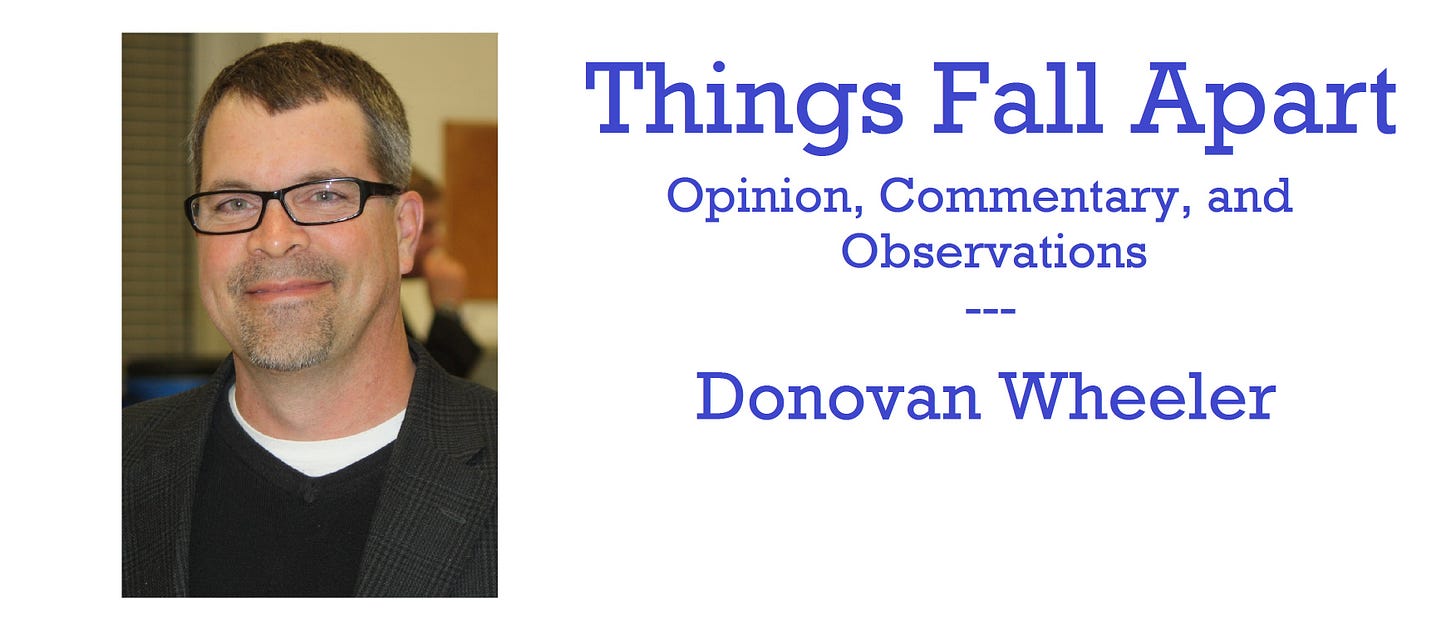 [divider style="solid" top="20" bottom="20"]

[divider style="solid" top="20" bottom="20"]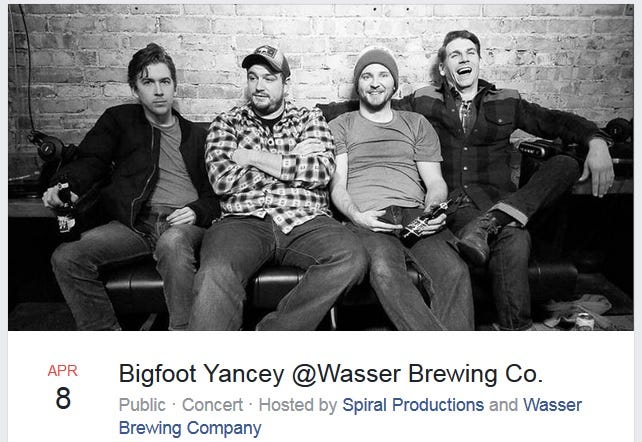 [divider style="solid" top="20" bottom="20"]
Since then ripples have popped up.  Under the late Royce Waltman, the ISU squad guided by Michael Menser led the Trees to a 2000 regular season title, a 2001 conference tournament title, a first-round upset of Oklahoma, and back-to-back wins over Indiana--that big brother school 90 minutes east on State Road 46.  A decade after that Terre Haute native Jake Odum partnered with coach Greg Lansing, won a conference title, landed both an NIT and NCAA appearance, and offered four solid years of competitive play.
But outside of that, Sycamore basketball has been an exercise in obligation.  Field a team, sell some tickets, show up in St. Louis, bow out in early March.  This season was an especially painful repetition of that routine.  Early in the year, I watched the Trees push a very good Iowa State team to the final basket in a preseason tourney in Orlando.  And all of us remember the Butler upset and the storming of the floor in Hulman Center.  I replayed that court-storming clip on my iPhone for a solid half-hour.  If you would have told me that night, that we would finish the year with 11 wins, I would have scoffed.
Now, as I sit and watch Regional Semifinal play in the NCAA tournament…at the moment Louisville is holding off a Michigan Wolverines rally…I watch with ambivalence.  My team is not there.  My team is rarely there.
I could opt for a strategy which many of my friends use:  I could adopt a team, one with a long-running history of tournament success, and I could pull for them.  My mom used to call these people "Subway Alumni," which I believe was a term coined generations ago to describe the horde of New Yorkers who took the train to South Bend to cheer for Nortre Dame's football team, despite never attending the school.  I don't hold any hard feelings for people who do that.  For one thing, not everyone goes to college, and those folks want to feel like they're part of the dance.  I totally get why people living in my home town thirty minutes west of Bloomington pull hard for IU.  That's fine.  And then there are those people who went to private Division-III schools.  Since DePauw will never square off with Duke in the Final Four, adopting a D-I surrogate once again makes sense.
In fact, because both Division-I football and basketball have become defacto farm programs for the NFL and NBA respectively, the NCAA is wise to encourage as many band-wagoning fans as they can.  The NCAA tournament is Broadway spectacle with a mostly unwritten finish.  They need butts in the seats and eyes on the screens.  For all those who eagerly consume the candy, more power to them.
[divider style="solid" top="20" bottom="20"]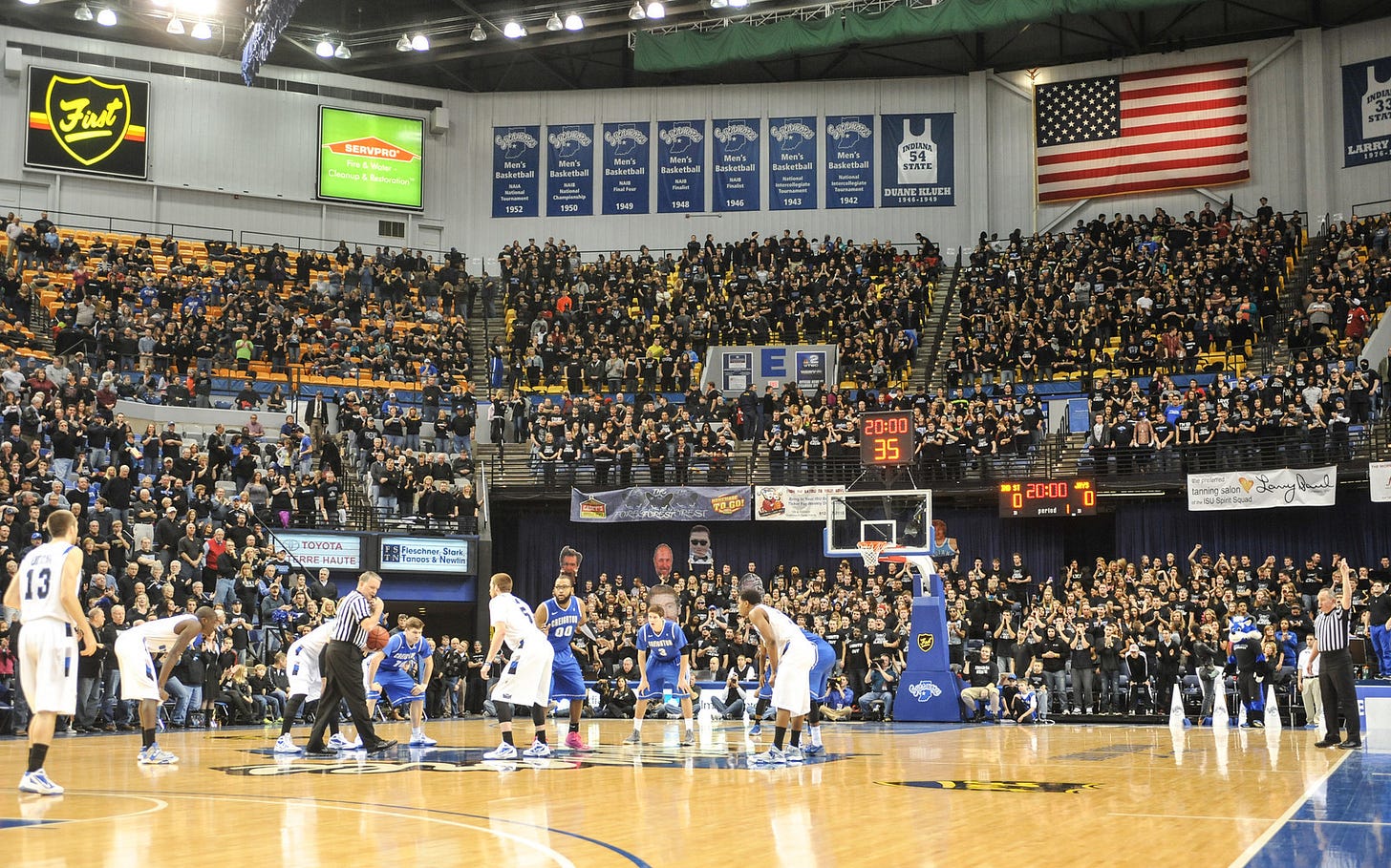 [divider style="solid" top="20" bottom="20"]

[divider style="solid" top="20" bottom="20"]
But it just doesn't work for me.  I've tried.  Growing up I was a Purdue "fan" because my parents went there.  Then, when I was an equipment manager for the Sycamore football team, we played an early season game in West Lafayette, where I witnessed a classless display of uncouth behavior on the part of the Boilermakers.  So yeah…screw them.
I could also be an Indiana "fan" because my daughter goes to school there right now.  But besides the fact that they're not even in the tournament, I just don't feel that sense of loyalty.  And when DePauw (where one of my step-daughters attends) plays here in town, throw out a polite "hurrah" to the local players.
But I have never attended any of these schools.  Indiana State University took me in, and gave me the opportunity to change my life.  My professors were solid, every bit as solid as the friends I know here in Greencastle who teach at DePauw.  My closest friends were brilliant students.  Sure, it's an open-admissions college…so yes…as a freshman, you're surrounded by a lot of kids who haven't gotten "things together."  But eventually the natural winnowing process runs its course, and suddenly you're a seasoned student, deep into a hard course of study, surrounded by classmates every bit as ambitious and hard-working as you.  When I'm an old man sitting in my comfy chair in my nursing home cubicle, I may not remember my first car or the day I began my career, but I will always remember every step I took when I walked that campus in Terre Haute.
[divider style="solid" top="20" bottom="20"]
[divider style="solid" top="20" bottom="20"]

[divider style="solid" top="20" bottom="20"]
In case you're wondering, ISU upset Ball State in that early season game in 1989.  We had just hired a new coach, former IU assistant Tates Locke, and the school was campaigning hard to return the Sycamores to lost glory, dubbing the season "The Road Back."  We carried 11" x 17" banners which we were supposed to wave every time a Cardinal player stepped up to the charity stripe.  Instead, most of us folded them into paper airplanes.  When Kenny Rowan, a freshman phenom from nearby Brazil, Indiana, dropped the first bucket for ISU, about half of those planes smothered the floor.  After an emergency time-out and floor sweeping, play resumed.  Then ISU scored its second basket and the remaining planes covered the court.
"Hey," Locke said, holding the PA announcer's mike.  "If you guys keep doing that we're going to get slapped with a technical foul!  I love the enthusiasm, but cut it out!"  Everyone did cut out, but only because there was nothing left to throw.  At the end of the game, the Cardinals drove to our end, worked the perimeter and put the ball in Chandler Thompson's hands, but his game-winning shot caromed off the front of the rim.  My ears rang for another day after that ball game.  The excitement, of course didn't help.  The Sycamores finished 8-20.  The next year they went 14-14.  A couple years later, they fired Locke.
Meanwhile, in real time, Michgan's rally has worked.  The game tied, the Wolves are threatening to continue a magical year which effectively began with a frightening near-disaster in an airplane.  And by the time season ends, thousands will have adopted Michigan as their team.  Good for them.  I however, can't accept them.  I've given my heart to another school, and even though they break it just about every single year, I will give it back to them when next winter comes back this way.  It's the least I can do for the school which has given me everything that I have.
[divider style="solid" top="20" bottom="20"] [author title="About Donovan Wheeler" image="https://scontent-ord1-1.xx.fbcdn.net/v/t1.0-9/13413045_10206476443925016_3719335501835627694_n.jpg?oh=b3c2dd713a7e1d8c1dbbdc8f07189b18&oe=5902C626"]Wheeler proudly teaches AP Literature and AP Language to some bright and lovably obnoxious kids in a small college town. He is the senior editor for the craft beer website Indiana on Tap, and he also writes for ISU's STATE Magazine, NUVO News, and VisitIndiana. Since putting in a pool he can now dive in head first (with goggles), and he has mostly stopped throwing golf clubs, but he still hates to fly.[/author] [divider style="solid" top="20" bottom="20"]

[divider style="solid" top="20" bottom="20"] Photo Credits: Photos courtesy ISU Photography Services. Photos used in accordance with the following guidelines posted on ISU Photography Services Website: "MEDIA/PUBLICATION IMAGES: There is no charge for electronic images supplied to print publications, media outlets or other businesses or organizations that use the images to promote Indiana State University and its programs."