Discover more from National Road Magazine
The best place is the world.
My Grandma's Favorite Team
My late grandmother's devotion to the Reds rivaled every other fan in baseballdom. But her absolute favorite team is probably the one she never got to see.
Nearly all my childhood memories have slipped into a fog of snippets, as I am sure is the case for most of us when we "reach a certain age."  Consequently, my memories of my first trip to Riverfront Stadium are more photographic than concrete, more emotional than analog.  
I went as an eight-year-old in the late summer of 1979—a nighttime bill against the Pirates.  Even to this day, the few—very few—mental snapshots I still have remain vivid.  I remember a foul ball caroming over the backstop and reaching its apex above Riverfront's upper deck.  I remember a fan snagging that foul with a black sweatshirt (a Pirates fan no doubt).  I can remember our seats, the red ones, situated high over the third base foul line.  I remember all those better seats, the blue ones, tucked into the lip of the dugout roof.  I remember asking my mom, and my dad, and my grandparents over and over, "What's going on?"  I remember clutching my newly bought Johnny Bench poster for most of the game, coveting and caressing, visualizing its place on my bedroom wall.  But probably more than anything else, I remember the resignation in Grandma's voice when she told me the Reds had lost.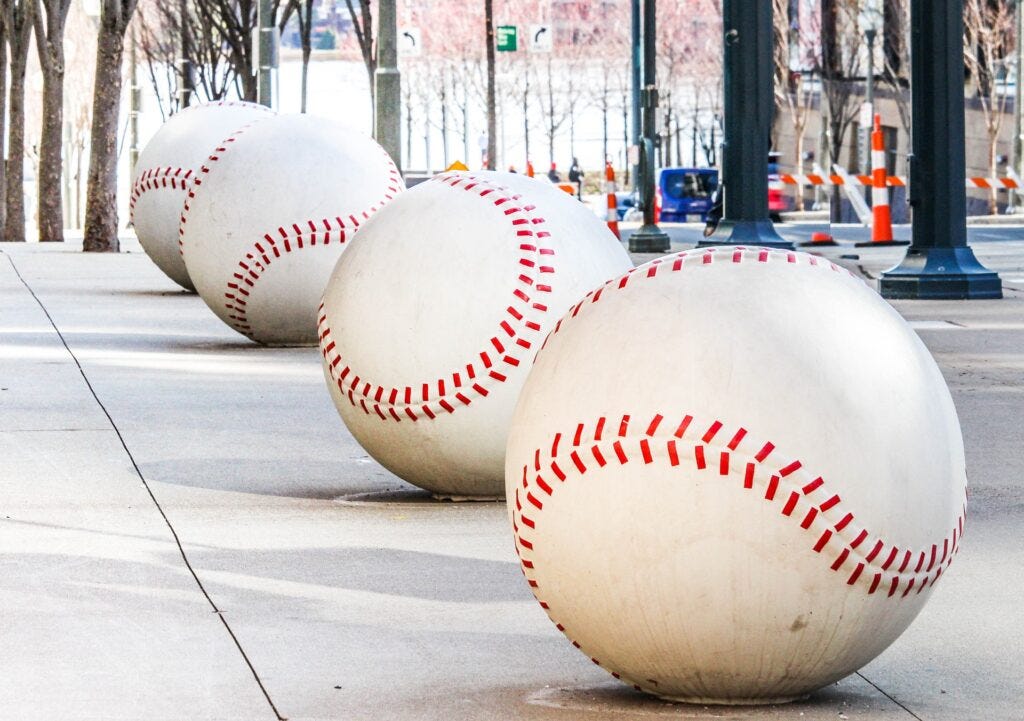 When I got home, I scaled that bedroom wall, propped my rubber-soled feet on my headboard, and affixed Johnny Bench just under the ceiling. For the next five or six years Bench hovered over my head—his gaze staring toward the outfield, his fingers slowly unclutching his bat, his lead step toed in the direction of first base.  The Reds would be pretty good that year.  But Tony Perez had already left for Montreal, and Pete Rose was bound for Philly.  They were effectively the first two divorces in the family, Grandpa's decision to leave her became the third.
For the next four decades, my relationship with baseball would run hot and cold.  Failing to move up from pee-wee sent me away, as did learning to play golf, as did the 1994 strike.  But every time my baseball switch flipped back "ON" I gravitated to Grandma.
For more than thirty years she worked the desk at our family's tiny, nine-hole golf course in west-central Indiana.  For all three of those decades she dialed her popping and crackling and humming, AM radio to the Reds Radio Network, silently reacting to Marty Brenneman's play-by-play.  She was, in every sense of the word, a composed woman.  When the Reds pulled out a comeback, walk-off victory, she would smile and maybe offer a mellow "hooray."  When they blew a save, she would wave her hands toward the radio, tossing out a low-keyed "bah!"  No matter what happened on the carpet in Cincinnati, however, Grandma always flipped off the set back in Indiana and returned to her day.
No matter what happened on the carpet in Cincinnati, however, Grandma always flipped off the set back in Indiana and returned to her day.
Throughout all of it, the radio always played.  The Reds always took the field.  Not long after Pete Rose blooped Eric Show's fateful pitch into the outfield, Grandma suggested that we all go see a game together—our first trip back to Reds country since that night in '79.  For the rest of that decade we annually traveled to Riverfront, and for the rest of that decade I spent my Hoosier summers leaning over the glass counter in the golf course's pro shop with Grandma.  Behind me Brenneman called the game.  To my side Grandma sat, nursing her dinner, nodding and shaking when the game's fortune demanded it.
Our last trip to Cincinnati was in 1990.  Paul O'Neil sealed a Reds' win against the Padres with a sailing homer that fell so close our seats, that even when we stood up, all we could do was watch the ball disappear behind the railing in front of us and wait for the rest of the crowd to let us know it was over the fence. 
Despite the joy of the World Series win, life did what it does.  I got married.  I moved away from home.  I had kids of my own.  When Grandma died in the winter of 1999, baseball had more fully than ever evaporated from my conscious thoughts.  Sure, the home run battle the year before had given us one last chance to talk about the game, but too much day-to-day life, too many miles, and too much bitterness over the strike had worked itself between me and the game.
If I harbored any thoughts about returning to baseball, the other sports gave me more than enough reason to temper that passion.  The Malice in the Palace dampened my relationship with the Pacers. And one good friend's awful experience working for Larry Bird soured it further.  And when Peyton Manning tearfully bid adieu to the Colts, I started to earnestly believe that being a "fan" was for suckers.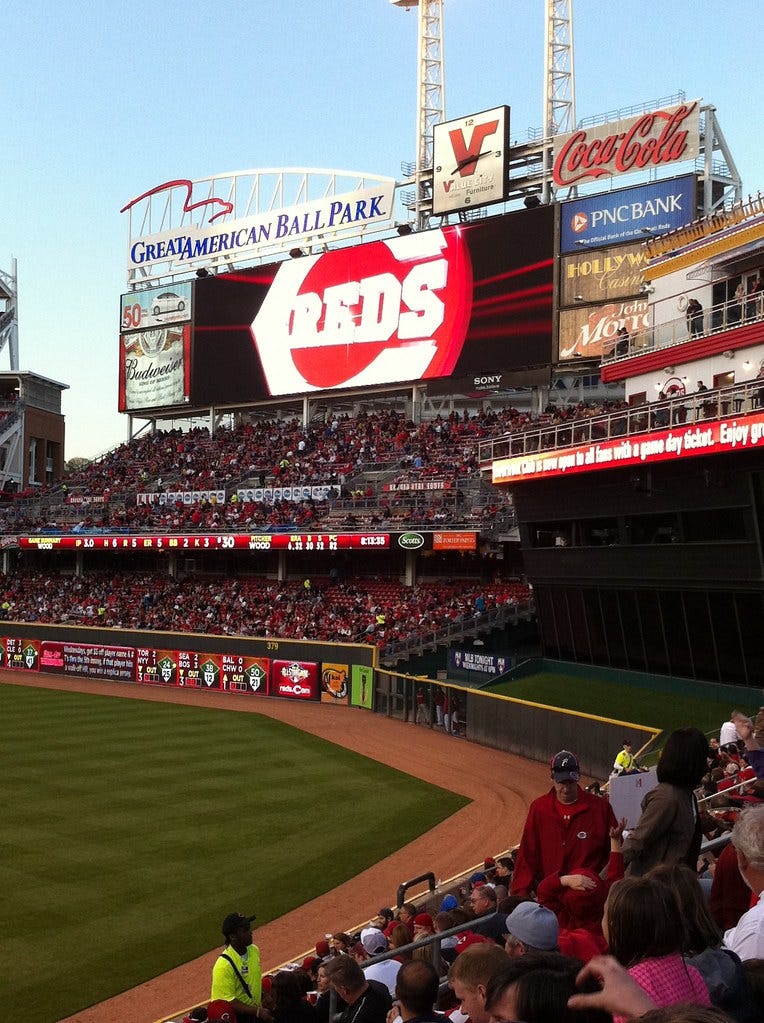 But last February, when PBS rebroadcast Ken Burns' Baseball in conjunction with the return of spring training early this year, my thoughts returned to Grandma.  In the years since the '94 strike I had grown older. In fact, I'm a few years older than Grandma was when she took me to that first game against Pittsburgh.  I had gotten divorced and remarried.  My kids had grown up and moved away (both to become Brewers fans, no less), and as each minute of Burns' film flickered past my eyes, an intoxicating nostalgia consumed me.
So, I went to Amazon Prime, and I signed on.
I've caught more than my share of grief from friends.  "Oh…" they say, "so now you decide to become a Reds fan, again…"  It's a fair jab.  In my defense, though, the team didn't play well in spring training, they had traded away not one but two key pitchers, and they opened the season with an ugly 11-6 loss to the Cardinals.  When I clicked that button on Amazon, I was hoping for 80 wins.
But then something magical happened.  I got to know the team.  I watched the post-homer exchanges.  I reveled at Votto's Jamie Tartt thumb-jabs.  I can still hear Jesse Winker say "They're just men!" after rocking a lead-off dinger at Dodger Stadium.  Jonanthan India's aggressive base-running reminded me that men still playing to win requires risk.  Kyle Farmer's ascendance to a top-of-the order infielder let me know that quiet determination counts for something, even in this caustic culture of hedonism and self-indulgence.  And all those "scooter revs" from second and first base reminded me that baseball is fun.  And that playing the game among good friends is better than special.
All of this couldn't have come at a better time for me, either.  The news is overwhelming.  It suffocates hope and thrives on our collective fear.  Somewhere out there is something that will get us—the flood, the wildfire, the Taliban, the virus, the politics.  In a moment when I wanted more than anything to find a way back to the world I grew up in, baseball proved to be that conduit to a better place.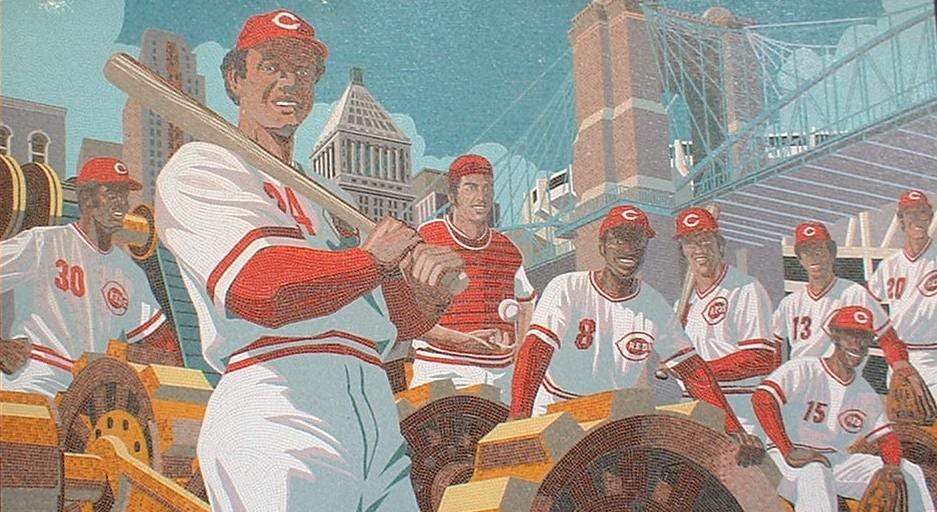 And every time I flip on a ball game and let myself get away from the ugliness of the current world, I find myself at that glass counter, watching the game with Grandma.  I have thought about her more in the last five months than I did in the previous twenty years.  She wouldn't have loved the long, baggy pants nor the slower pace of play, but she would have loved Great American Ball Park.  She would beam at the sight of the riverboat cannons going off after a dinger, and she would have very much loved this team.  Despite seeing three World Series champions play in the flesh… Despite watching a rookie Johnny Bench perform at Crosley Field… I would venture to suggest that this team would have stood out as one of her absolute favorites.
I understand the frustrations of Reds fans who've not taken breaks from the game.  This is a tantalizing and agonizing season for sure.  And heck yes, I want to see the Reds eek their way into the playoffs.  But even if they don't, I honestly owe them from a very personal level.  Playoffs or not, they've given me a connection to a more innocent version of me I had forgotten and brought back to life a woman who did everything in her power to teach me to be the best person I could possibly be.
If I could say anything to the men on this team, I probably wouldn't even mention the playoffs.  I'd simply let them know that they're playing for Grandma.  They're playing for that legion of life-long fans who hovered over their GE's and Zeniths and Philcos, people who—in the middle of their own very difficult lives—counted on those Redleg boys of summer to bring them a few hours of respite and joy.
Photo Credits:
Featured Image: "Crosley Field, Cincinnati 1969" by Blake Bolinger is licensed under CC BY 2.0
Reds Baseballs by Greg Reese via Pixababy
"Cincinnati reds scoreboard" by ChipMahaney is licensed under CC BY 2.0
"Big Red Machine, Great American Ballpark" by SeeMidTN.com (aka Brent) is licensed under CC BY 2.0