Discover more from National Road Magazine
The best place is the world.
On Becoming Relevant Again
Three Dudes in a Brew Pub
Part Four: On Becoming Relevant Again
The following is the final part of a four-part series chronicling Donovan Wheeler's conversation with two men running for local offices in Greencastle, Indiana.  They are Democrats in that Midwestern swath of red which often and easily goes to the other team.  So easily that, this year, the other team didn't even show up for the debates.  In part four, Russell Harvey (running for Greencastle Township Trustee) and Matt Cummings (running for Putnam County's 3rd District seat on the county council) talk about need to keep the debate focused on local issues.
Call it a crude joke if you want to, but answer this question nonetheless:  If Jesus Christ runs as a Democrat in the state of Indiana, and Charles Manson runs as the Savior's Republican adversary…by how much does Manson win?  For all the bellicosity oozing out my television speakers every morning as I dress for work (please, please…! Bring back the pretty girl who sells cars for Andy Mohr), I have yet to watch single ad in which I can imagine a viewer thinking, "Really…?  Mike Braun ships parts made in China?  Well, that changes my vote."
As Russell Harvey and Matt Cummings talked about their respective local elections, both men stared down the Hoosier state's deep-red, 800-pound gorilla sitting among us in Wasser Brewing Company's taproom.  He's a metaphorical gorilla…I get it.  But if he were real, he would have borne the face of Mitch Daniels, flexed the squared-off shoulders of a Brian Bosma, and coughed out a gentle Ronald Reagan laugh.  As things were, I imagined him spending the evening several feet away from us, sitting at the corner of the bar, ordering up one heffeweizen after another—like every other weak beer drinker I know.  A total poser.
But in the context of seeking political office, the red gorilla was all too real.
"I'm 100% pro-choice.  But I'm also pro-gun, too, and I'm going to go out with my buddies this weekend and shoot AR-15's. And if people are going to vote against me because I happen to stand [where I do] on those issues…?  I'm not going to lie to them [in order to get their vote]."

"Statistically, I have an uphill fight.  I know that," Cummings says.  "But over time, if we keep pounding at these [basic, local] issues, we will eventually break through."

"My first donor to my campaign is a Republican," he adds.  "We can appeal to people at the local level because people realize that solutions matter over party.  [The question people will eventually ask themselves is this]: Is this person able to provide viable solutions to problems we see in the community?  Sure, it might take us years to change people's minds, but nothing's ever going to change if there's never an option."
"I think another part of it is that we get caught up in the hype that Putnam county is heavily red," says Harvey in agreement.  "And I think some people kind of put themselves into ideological boxes, but if people look at the candidates and look at the ideas then I think they're more open to considering choices."
"When you start talking about things like health care and education or on things like our roads," Harvey continues, "when you talk about an issue which affects my race specifically—how our tax dollars are spent to combat poverty… These are all common sense things that people want.  It goes back to being willing to have the conversation and being willing to talk."
"So, is New York different than Indiana?" Harvey asks.  "Well, of course it is, but across the nation, when you talk about basic needs, everybody wants them.  The key is to speak to the actual issues.  I think we all get so far into the weeds about these [national problems] and let those define us a party.  Those are the things that we have to start shedding so that we can focus on the things that mean something to the people who live here."
"Sure we have feelings about things like #MeToo and Brett Kavanaugh," Harvey adds, "but that's not our stump speech."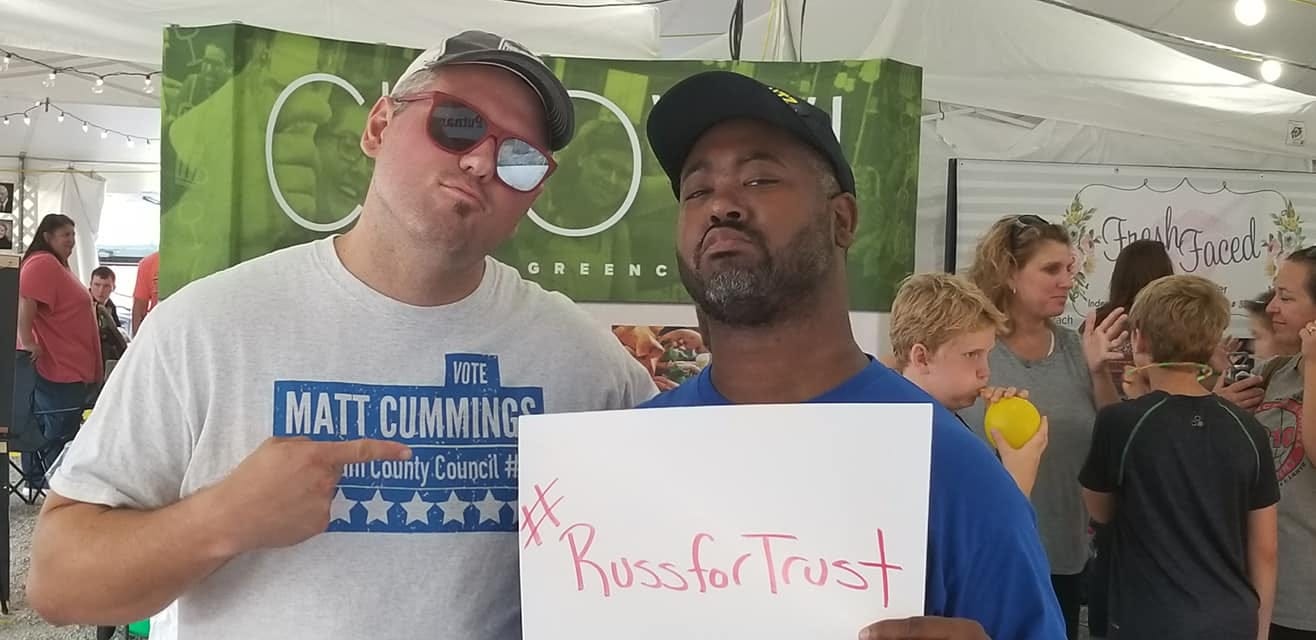 "There is an intersectional element to this," Cummings says.  "I stand by my feelings on these national-level matters.  I'm not down with homophobia and discrimination against transgender people at all.  I'm also 100% pro-choice.  But I'm also pro-gun, too, and I'm going to go out with my buddies this weekend and shoot AR-15's. And if people are going to vote against me because I happen to stand [where I do] on those issues…?  I'm not going to lie to them [in order to get their vote]."
"If you put issues before party, and if [the only thing candidates could do] is talk to people, then we win," Cummings adds.  "I've encountered so many people at First Fridays who say they are die-hard Trump supporters.  But when we stand there and talk, I can get you to vote for me."
"The reason I say that is that I consider myself a common sense Democrat.  I'm not an East Coast or West Coast Pelosi or Feinstein.  I grew up in rural Indiana, eating 'government cheese.'  De-tasseling corn was my first job, and I think that relates to a lot of people.  Sure, I've worked in urban places and worked at the bougie (DePauw) university for a while.  But in terms of common roots, there's some relation.  If you talk about these things as they apply to people here: public education, public health care, public infrastructure… If you talk about these parts of the national ideology in the local context, it wakes people up."
"We've got to get back to that message about the purpose of government," Cummings concludes.  "It's here to serve the common good of society."
Therein lies the rub, I suppose.  How do we move society back from the edge of the cliff?  How do we get the next crackpot, hell-bent on shooting up the pizza shop that is housing Hillary's child sex ring, to put down his gun and talk about something less exciting…like the cost of asphalt?  Cummings is probably right when he alludes to the fact that—if he could control the narrative—he could prevail with his knowledge, personality, and delivery.  Deep tradition, however, works against any donkey who tries to slay the elephant out here in these parts.  As Cummings himself says, the change will take time.  Personally, I hope that's all it will take, because the last couple times Democrats won big across Indiana, it was because conservative ideology had put voters in the unemployment line.
Wheeler proudly teaches AP Language to some bright and lovably obnoxious kids in a small college town. He also contributes to the craft beer website Indiana on Tap and writes for other publications.