Discover more from National Road Magazine
The best place is the world.
On the Trail: A Sample of Kentucky's Bourbon Region
Day One: Down South to Louisville
January 3, 2020
When I was four years old, my mom, dad and I paid a little visit to the Maker's Mark distillery in the small city of Loretto, Ky. This was around the time when the Kentucky Bourbon Trail concept was getting off the ground, and also when Maker's Mark was just beginning to "go commercial."
My parents remember that as we toured the main rick house, I loudly exclaimed that the place smelled like Heaven. The tour guide supposedly predicted that I would grow up to become a lush. Depending on the connotation which you attach to that word, she perhaps was on to something.
My mom and I talked off and on about how nice it would be to go down and spend a weekend on the Bourbon Trail. It had been at least five years since we all were last in the Bardstown area. I was still too young then to truly appreciate everything that makes the Bourbon Region so special.
I've become much more of a bourbon fan since this trip. I am fascinated by its history, as well as the industry and tourism that has developed around America's native spirit. I've gone from being a teetotaler – who has used his Type I diabetes as an unassailable excuse not to drink – to an enthusiast who wants to explore different cocktails and learn about what works and what doesn't.
This adventure was a just sampling of what can be discovered in Central Kentucky. Today, there are 18 distilleries on the Bourbon Trail, with a separate tour featuring the craft operations. However, you can find that the real McCoy of what makes the region tick is its people. Indeed, I believe that there are viable connections to the treasures found on our part of the country.
I was more mature this time around. I was in it just as much for the history as I was for the booze.


Our weekend adventure got under way at about 10:30 a.m. My parents picked me up in front of my apartment downtown and put my luggage bag into the back of my mom's Buick. I also brought my day bag packed with a few necessities in case of emergencies, as well as my good camera which I exclusively use in my job as a staff writer for the Banner Graphic. Why not? It wasn't like I was planning to write a story about my mini experience in Bourbon Country…or maybe I was.
We had all agreed that our first stop on the way down to Louisville would be in Columbus. My sister insisted that we eat lunch at Zaharakos, a real old-fashioned ice cream parlor dating all the way back to 1900. We arrived a little before noon, after going around the block two times trying to find a parking spot. For what it's worth, this reminded me of Greencastle as it is on some days.
Zaharakos is one of my favorite places to go to, simply because I can get a Diet Coke with real cinnamon syrup and not feel all guilt-driven as a Type 1 diabetic. It is a happy place. It is also one of my favorite landmarks because of its long history and the many artifacts which are found inside.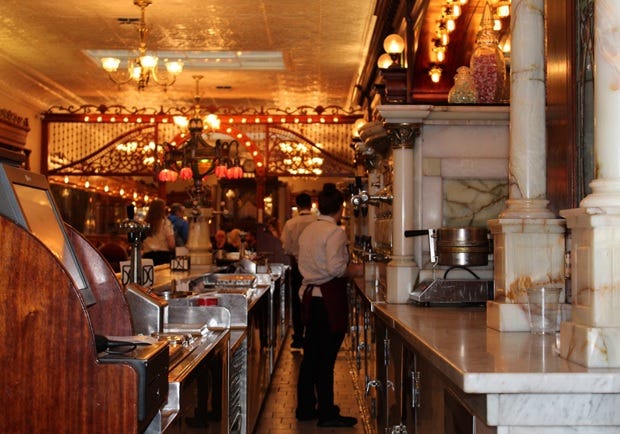 Zaharakos was opened as a candy store by three brothers who came to the U.S. from Greece. They began selling ice cream and sodas after the 1904 St. Louis World's Fair. They brought back with them some truly priceless fixtures - a Tiffany lamp and two Mexican onyx soda fountains. A fixture of the space is the 1908 Welte orchestrion, which I don't think has missed a single cue in 110 years. And then there's the 50-foot mahogany and marble backbar, which my dad - who owned Remedies on Washington Street with his own soda fountain - and I fantasize over when we see it.
I think Dad might swoon a little more over the many old syrup dispensers on display. Their value to me is almost impossible to comprehend, because they're so rare and in immaculate condition.
I had the Avocado Grill sandwich, a satisfying blend of cheese, avocado and tomato on thick white bread. Mom got their large breaded tenderloin, and it was as good an example of the Hoosier staple as you can get anywhere. To be honest, I don't remember what my dad and sister got. However, it was all humbled by the giant banana split we shared for dessert. I think my blood sugar spiked 25 points after just looking at it, but it was scrumptious and had everything right about good ice cream.
Whoever constructed it was kind enough to put four plump maraschino cherries on top. I had a couple of bites, but the rest of my family left a puddle of melted ice cream and chocolate drizzle. You go to Zaharakos to take in and enjoy an authenticity and experience difficult to find elsewhere.
There wasn't much to the drive between Columbus and Louisville, except I had no cell service whatsoever. I ended up taking a nap, waking up not very long before we finally saw Derby City.
We at last crossed the George Rogers Clark Memorial Bridge into the Bluegrass State, and were in downtown Louisville about 3 p.m. I was struck with how the city was shrouded in a thick fog due to the rain which had swept into the area. As we drove down Museum Row and passed the World's Largest Baseball Bat in front of the Louisville Slugger factory and museum, I initially thought that the downtown there was not all that dissimilar in its layout from Indianapolis' own.
We parked right by Michter's Fort Neslon Distillery, which itself is directly across the street from the Louisville Slugger. I snapped a photo of it before I went inside. It was my understanding that we would only do a tasting in the bar. That's exactly what we did, although I had an actual flight.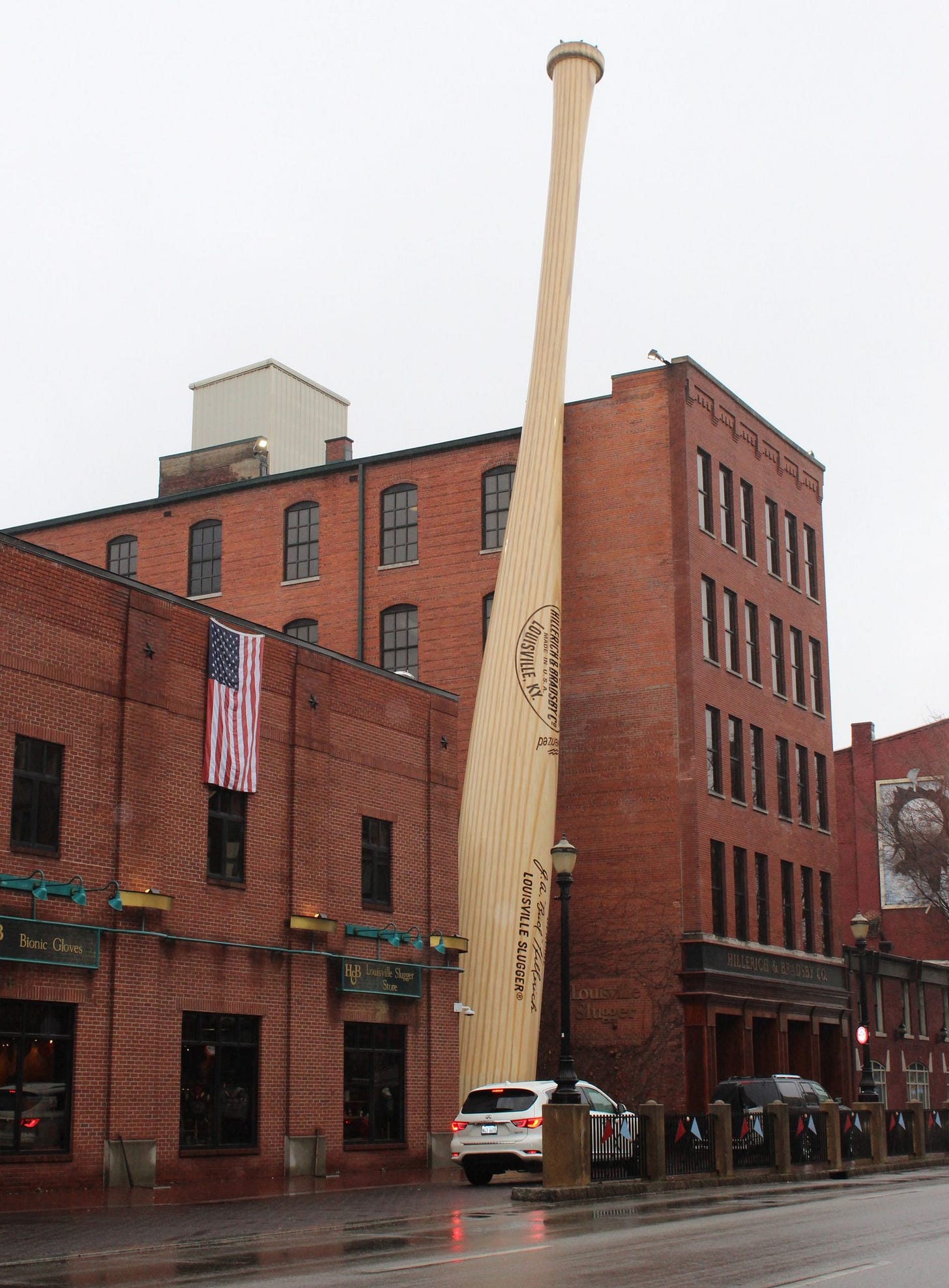 I haven't been able to find very much history on the Fort Nelson building itself, though an actual Fort Nelson, built in 1781, once stood in the area. You can't forget that we were close to the river.

Michter's – a brand with its roots in Pennsylvania which actually went bankrupt in 1989 – bought the property in 2011 with the goal of opening the first operating distillery in Louisville since Prohibition. However, a structural defect prolonged an extensive restoration of a long-neglected building. The Evan Williams Bourbon Experience would then take that distinction in 2012, while eight other distilleries came before Michter's at Fort Nelson opened in February of just last year.
We went up to the bar on the second floor and sat down to look at the drink menu. My sister's boyfriend, Ethan, came in not too long afterward. A part of this trip for Gabby was to be with him as much as possible, especially since both are not "legal." It would not have been very fun for her to sit out on any of the tastings we did. Nonetheless, she found a refreshing "mock tail" to sip on.
Mom ordered a simple but tasty Manhattan, while I took my shot at the U.S. 1 Flight. It consisted of Michter's Kentucky Straight Bourbon, Straight Rye, Sour Mash and their American Whiskey. I gingerly sipped each one, letting both Mom and Dad taste them as well. We all effectively agreed the rye whiskey was the smoothest one out of the four, something which surprised me at the time.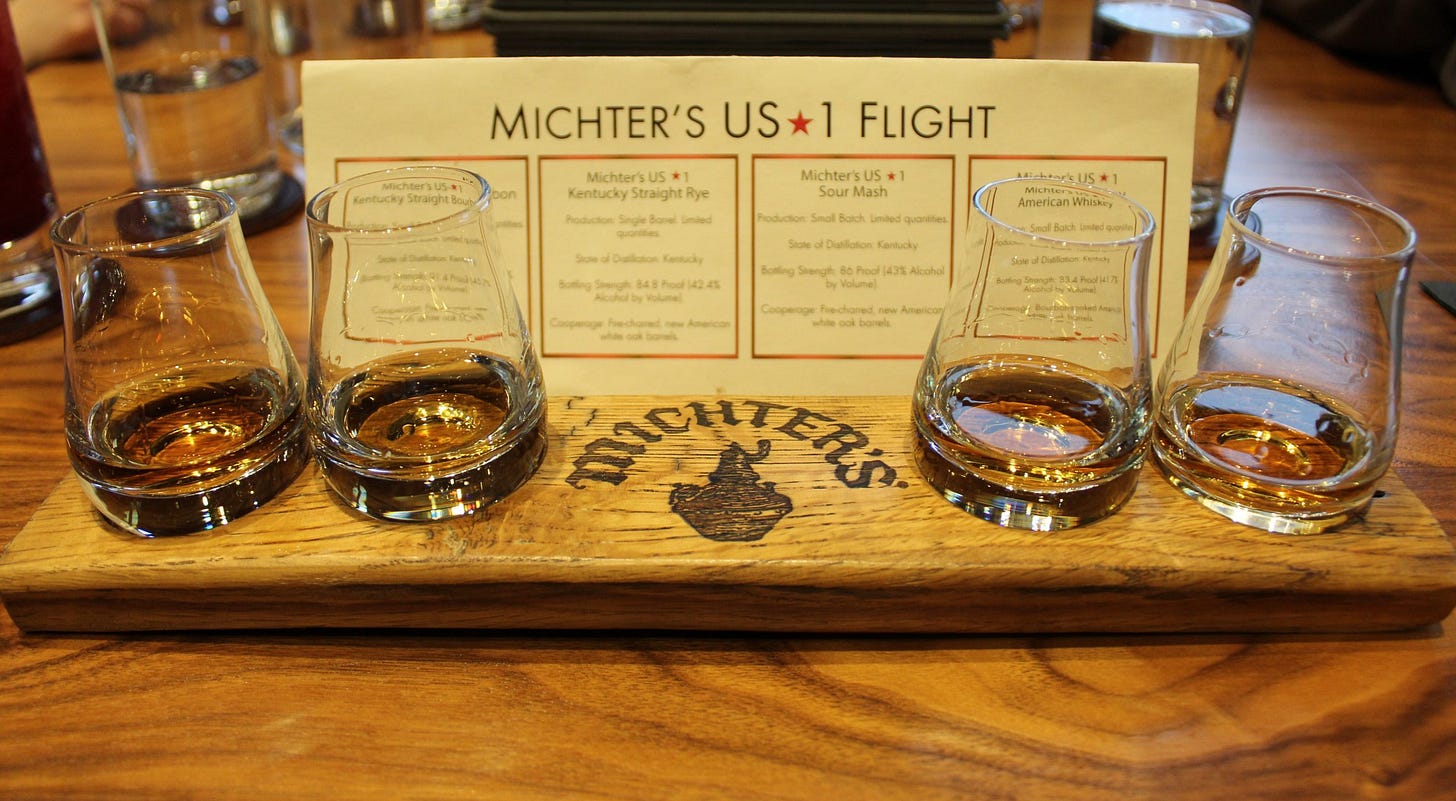 It was before I drank the last drop that I began to have a surreal feeling. I started to sweat like an overheated radiator, and everyone laughed that my cheeks had become bright red. Dad said I was experiencing vasodilation, where the arteries dilate, or open up, to increase blood flow. This is actually the cause of the warm feeling, as well as the flushness, that you get from drinking alcohol.

I struggled to get to the bathroom. My vision was blurred and I felt extremely weak. It was not until we got back to the car and I checked my blood sugar that I found I was uncomfortably low. The dots were, more or less, connected; and I was weary that I had overshot my lunch at Zaharakos.
Gabby and Ethan went their separate route, while Mom, Dad and I took a break for me to get my blood sugar back up. After I gulped a Cinnamon Coke, we made our way down to the Evan Williams Bourbon Experience. We passed a 30-foot tall, golden-painted foam replica of Michelangelo's David, which stands outside the headquarters of the 21c Museum Hotel chain. It seemed a long time walking in the cold rain – and keeping my camera from getting waterlogged.
We knew that we were too late for the last tour of the evening, so we decided to at least visit the gift shop if we could do nothing else there. My mom and I went up first, and we almost immediately gravitated to a spot where you can taste various sauces. We both, as well as Dad, found their wing and garlic sauces to be the tastiest of them all, and ended up buying a bottle of each. Mom incidentally found some peach-flavored Evan Williams, which I thought was exceptionally delicious. I think she bought one of the peach and another of the cherry-flavored bourbon they had.
Even though both Evan Williams and Michter's technically have their own distilleries there on Louisville's historic Whiskey Row, I considered them to be more akin to Disney Stores. This is perhaps a little unfair, considering we only saw a part of each. They were still an acquaintance of what would be the highlights of our short journey, that of going to Bardstown and Maker's Mark.

After we met my sister's boyfriend's family for dinner at a Dave & Buster's, we finally turned in for the night at our hotel. It was essentially across the street from the Southeast Christian Church, the seventh-largest church in the country. If a spirit be a sin, Mom and I weren't going to be saved.
[author title="" image="https://www.bannergraphic.com/photos/34/41/96/3441969-S.jpg"]Brand Selvia is a staff writer for the Banner Graphic newspaper which serves Putnam County, Indiana. He is passionate about history, connections and classic cars. "Brando" loves to chat over a cup of coffee, and also enjoys joyriding and going to car shows in his 1974 Volkswagen Beetle.[/author]