Discover more from National Road Magazine
The best place is the world.
One With The World
Pages
, War Radio's second full-length album, showcases The Putnam Four's sophisticated studio sound, a strong philosophical voice, and the technical mastery we've always expected from them.
by Donovan Wheeler photos by Drew Cooper courtesy of War Radio
[dropcap]M[/dropcap]y favorite moment in Siddhartha, Herman Hesse's masterwork recounting the life of the Buddha, comes deep in the book when the titular protagonist stands on the banks of the Ganges and discovers the paradoxical secret of the river.  The water—which feeds to and from the universal sources of life—is always moving, always going somewhere.  But every day, the river is still right there, in the same spot, looking just as it did the day before.  I thought about that book as I listened to several of the tunes on War Radio's sophomore album, Pages.  This parallel theme paints itself in vivid strokes when Tosh Everson's vocals speak to our collective need to break free of life's cycles and move forward in the aptly titled, "465," and the motif repeats itself and grows more nuanced as the record progresses.
"We wanted to make more than a collection of songs," says bassist Dennis Furr. "We wanted to create a cohesive piece of work with a theme. Considering the state of things right now, locally, nationally, and globally, Joel and Tosh in the writing process felt that 'Hope' as a theme was appropriate and necessary."
"Pages represents our story, your story," lead vocalist Tosh Everson adds, "our combined story as people who live and exist trying to do what is right and leave this place better than we found it. Within Pages you find struggle, success, heartbreak, but mostly hope.  Hope that we can be better, do better, and a reminder that hope is never too far away."  In an email conversation with Everson and Furr, we explore this theme, the development of the new album, and the continued evolution of the band.
[divider style="solid" top="20" bottom="20"]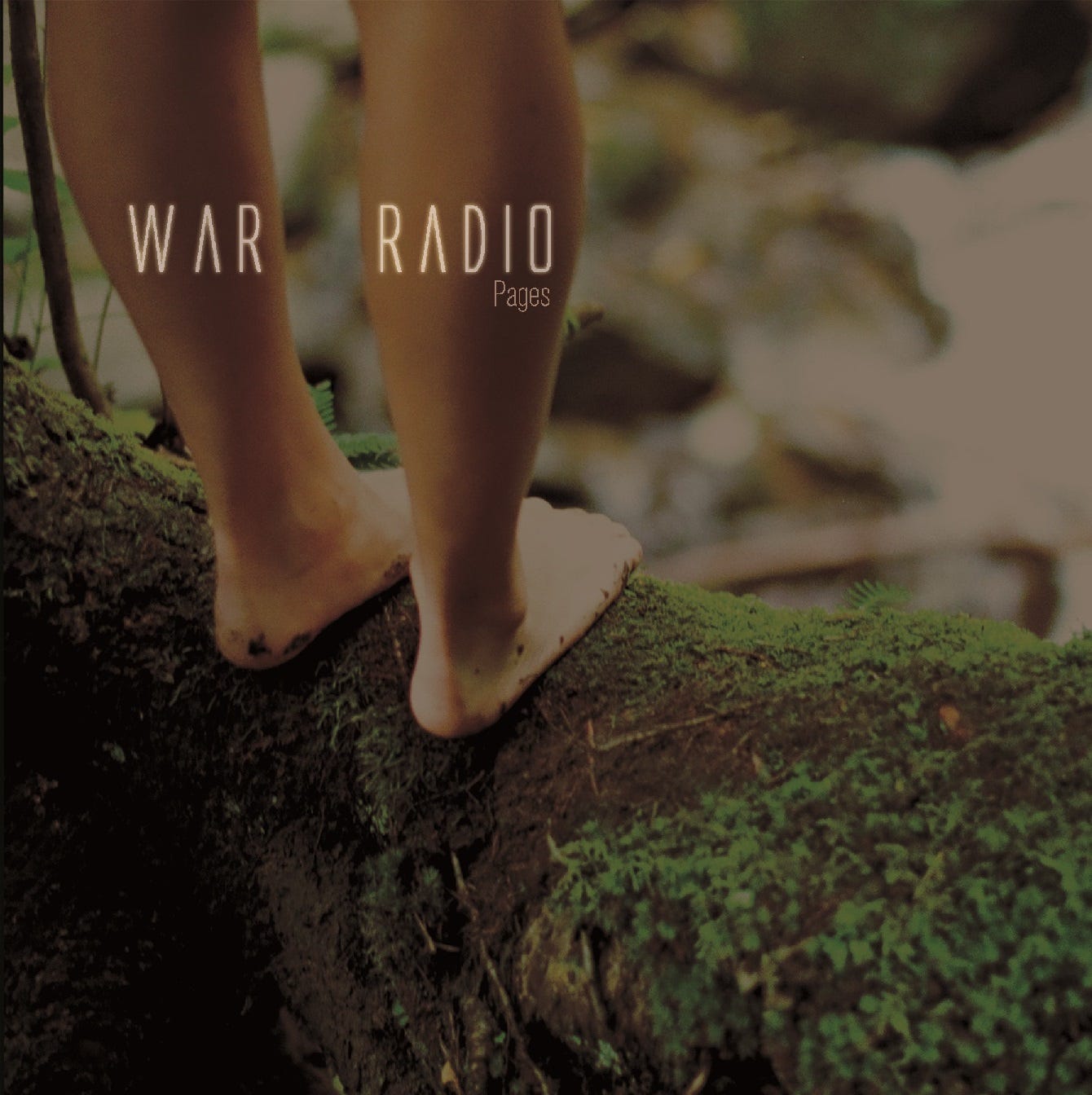 [divider style="solid" top="20" bottom="20"]
Donovan Wheeler:  You speak of the album as a statement about the power of hope, but I hear a lot of anxiety as well.
Tosh Everson:  "That is exactly what hope is.  That feeling of anxious energy that something (good) just might happen. The record encourages the listener to move, move toward that something better. To not give up the feeling that tomorrow will be brighter."
 DW:  Some songs in your first full-length album, Tracks, hint to your evolution from a cover-band, jam-session group into one geared toward a sort of musical philosophy.  This new record seems to embrace that identity.  Tell me about the decision to move War Radio that way.
 TE:  "As a band we always strive to maintain musical momentum.  By that we mean constantly trying to push forward.  Maybe that's what you're sensing in terms of us moving to a more musical philosophy.  Ultimately, we want our songs to say something.  Yes, the compilation of the music is equally important.  It should be something you actually want to listen to, but most importantly, what is it saying to you?  In our hearts, we'll never lose the love of jamming.  But refining the message has become very important to us."
 Dennis Furr:  "There's almost always a different approach in the studio compared to live performances. When we're in the studio, we sort through gobs of ideas that eventually get molded and polished into the final artifact, which needs to have that musical philosophy you're talking about to be able to endure multiple listenings. In a live performance, where we jam, we get to feed off of the energy of the audience, and hopefully they're feeding off of our energy, and it all leads to a unique experience. The hope is to bring some degree of the live energy feeling into the studio, and some of the musical philosophy into our live performances."
[divider style="solid" top="20" bottom="20"]
[divider style="solid" top="20" bottom="20"]
[divider style="solid" top="20" bottom="20"]
DW:  How did making this record differ from your past efforts?
TE:  "We spent a lot of time honing lyrics, and exacting our message.  More so than in previous recordings.  Our producer, Jonathan Class, totally caught our vibe and pushed more than ever before with creating sounds that echo the lyrics.  We also spent a lot of time listening to what we created, and then adjusting it to make sure it was truly us."
DF:  "Using a producer proved a very different approach to anything I'd done before. I had to put a lot of trust in someone I didn't know. I imagine it's a lot like sending your kids to school for the first time. You no longer have the influence or say-so that you'd had before, you're leaving the shaping of your hard work and passion in the hands of a stranger. Joel and Tosh had met with Jonathan before the band went to the studio, and they were confident in his ability to create the right sound, but giving up the reigns wasn't easy for me."
DW:  When we sat down and talked over 18-months ago, you shared many of your long-range plans for the band.  How have those progressed since then?
TE:  "We've been touring out of state twice a month since the spring, both as an acoustic duo and full band. It's been really nice to take this new music on the road, and see the reactions from people we've never met in areas we've never been to.  Overall, it's been really well received.  Plus, when we tour as a full band it adds a new dimension to the level of 'closeness' the band experiences.  It's a whole new type of togetherness.  But it's been fun to talk all things music, share who we're currently listening to, and energize the music before we ever get onto the stage."
[divider style="solid" top="20" bottom="20"]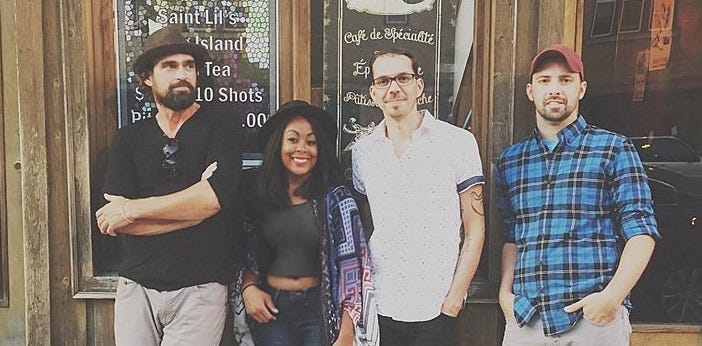 [divider style="solid" top="20" bottom="20"]
[dropcap]O[/dropcap]nce again splitting lead vocals with her husband, Joel, Tosh Everson and her bandmates anchor Pages with the traditional stage mechanics we expect from War Radio, yet they also layer it with a range of studio effects—from the soft synthesizer leads which often fade in…to the reverberating digital beat which runs throughout.  The net result is a sound which hearkens at times to an 80s groove yet communicates to an audience living in world none of us could have imagined three decades ago.  Tracks proved a solid, independent opening round for a band carrying talent and a lot of promise.  Pages stands decidedly more polished and refined than its predecessor.  A benchmark cementing the band's reputation as both technically sound and artistically measured.
As my thoughts circle back and again to Hesse's novel, I recall what happens to the Buddha after he figures out the mystery the river:  he proceeds to tap into the hearts of all living things and learns how to share the experiences of the entire world with his own feelings.  Nirvanna.  No doubt some will think, at that point, that the comparison to War Radio rolls into hyperbole.  But no matter the scale, we all seek meaning for what we do in our own ways.  This is universal. And if we think we're onto something we're going to see it through.  Pages is onto something.  As a cautiously optimistic collection of tunes reminding us that we all must climb out of our own states of darkness and turn to hope, the album is every bit the sort of meaningful philosophy which so mesmerized a German-born, Swedish author over a century ago.  As a collection of rock-and-roll songs, Pages is War Radio doing what they've always done best, but this time they're doing it from a noticeably higher level.
[divider style="solid" top="20" bottom="20"]
[author title="About Donovan Wheeler" image="https://scontent-ord1-1.xx.fbcdn.net/v/t1.0-9/13413045_10206476443925016_3719335501835627694_n.jpg?oh=2d21f9f673b6330f12de36d03de0b13b&oe=57C65E26"]Wheeler proudly teaches AP Literature and AP Language to some bright and lovably obnoxious kids in a small college town. He is the senior editor for the craft beer website Indiana on Tap and writes for ISU's STATE Magazine. Since putting in a pool he can now dive in head first (with goggles), and he has mostly stopped throwing golf clubs, but he still hates to fly.[/author]
[divider style="solid" top="20" bottom="20"]
[divider style="solid" top="20" bottom="20"]