Discover more from National Road Magazine
The best place is the world.
Review: Charlie Ballantine's Life is Brief: The Music of Bob Dylan
I will tell up front I am in no way a fan of Bob Dylan, but I fully admit he is one of the most influential singers or songwriters who have ever lived.
Charlie Ballantine's previous recordings (Charlie, Green, Providence, and Where is My Mind) would often showcase a cover song that would bug you half way through ("I know that song").  Therein lies the beauty of Ballantine.  Don't try to guess what tune he's covering.  The fact that you couldn't come up with the name is what makes his work incredible.  This is an homage, but not the note for note type; that's what wedding bands are for.  Think of Muddy 100 the tribute to Muddy Waters or The Cure's version of Purple Haze off of the Jimi Hendrix tribute album Stone Free.
Three years before I was born in a neighboring state, Bob Dylan walked on stage at The Newport Folk Festival with an electric guitar.  Many of his fans were not sure how to take the change.  Almost 53 years later I think Ballantine's newest release, Life is Brief/The Music of Bob Dylan, may have the same effect on Ballantine fans.  Life if Brief is unique for a couple of reasons: first of all it is an album that has 12 songs from an iconic American singer/songwriter with lyrics on only two songs. Second, it is the first time that Charlie has put out an album that has any lyrics, period. I'm not sure is this rises to the level of Newport, but….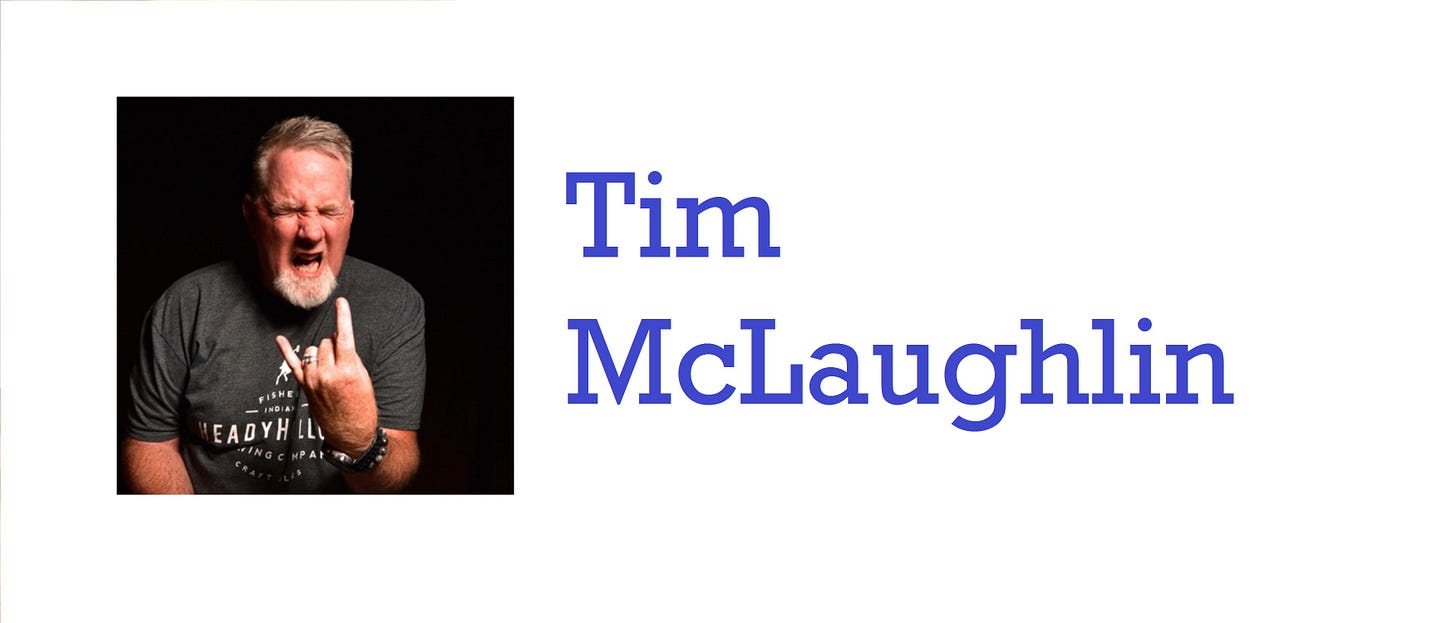 Ballantine is joined by Jesse Wittman on upright bass, and you know why.  He's been playing with Charlie for years and it's like watching twins that speak their own language. Chris Parker on drums is wonderful and along with Wittman they able to keep time.  This is crucial as the usual two to three minute Dylan songs are stretched to five or six minutes.  With the addition of Shawn McGowan on organ and Mina Keohane on Wurlitzer (more cool than "keys") helps add to the tracks depth and reach.  Completmenting the tracks that made me almost drive off the road, the ones with vocals, Brandon Whyde lent his guitar and soulful voice on one and partners with Mina Keohane on another.
The first song, "Times They Are A-Changin," starts with Wittman on upright bass, Charlie's guitar, and Chris Parker on drums.  I'm in awe as to the symphony six strings and a few pedals can produce.  The rapid playing of chords, repeatedly by Dylan is replaced with single notes and tastefully placed drum work that evokes visions of vistas, and not of the worn down working man.
"The Death of Emmett Till" is a far busier song than the others as the original (describing in great detail the events of the Emmett Till's tragic end) is a long and very wordy song.  The kind of scattered "energy" in Ballantine's track (where Wittman's bass playing virtuosity is on full display) really evokes an emotion often lost in other translations.  And though the original song is incredibly important, I personally can't listen to it as the story still turns my stomach.
Photo by Tim McLaughlin of Hapless Guitar Photography
"She Belongs To Me" with Dylan's lyrics makes almost no sense to me: "She wears an Egyptian ring that sparkles before she speaks/ She wears an Egyptian ring that sparkles before she speaks."  I am told the lyrics are genius but they seem so disjointed. This song is best served with no lyrics.
"Masters Of War" introduces the first of two saxophone players on this album.  Rob Dixon, an Atlanta native and Indiana University grad, takes this song over from start to finish.  It kind of starts out as an interlude, but from around 3:30 until 4:45 this song soars.  The energy and horn's extreme range evoke chaos and a feeling of uncertainty, and if you read the lyrics you get a sense of battlefield uncertainty.
"The Lonesome Death of Hattie Carroll" as played and sung by Dylan is, much like "Emmett Till," as mechanical chord structure with a kind of a retelling of an article in the newspaper.  This is a song that is much better served by a simple three-piece band in equal parts with no lyrics.
"It's Alright Ma (I'm Only Bleeding)" is the most true to the original in the acoustic version and a closer interpretation of an electric version I was able to locate online.  The lyrics to this song have a very beatnik poet feel in both rhythm and meter.  Dylan is a fan of Jack Kerouac, once playing at the University of Lowell in Massachusetts, on a tour of New England with a thrown-together troupe (which called itself the Rolling Thunder Revue) of new friends and old, including Ginsberg.  This far and away my favorite song on this album, and it's Charlie's sphere of influence that brings the notes to life better than the lyrics ever could.  This is also the first of two tracks with Shawn McGowan on the organ.
"Don't Think Twice" is the first of two songs that feature the incredibly soulful voice of Brandon Whyde.  I was surprised when I saw Brandon's name on the liner notes but was pleasantly surprised that it was for his vocals, along with a dash of acoustic guitar.  When he sings "don't think twice, it'll be alright," you know that it will be alright.
https://www.youtube.com/watch?v=JOgarNGZtCY


"A Hard Rain's A-Gonna Fall" feels like the blockbuster movie's "montage song."  You know…the one where the guy realizes he was a total schmuck and is driving across the desert or is looking out the airplane's window going over the awesomeness of what a total disaster he may have made of his life.  Yeah, kinda like that.

"Shelter from the Storm" brings out the other saxophone player on this record, Amanda Gardier.  An Illinois native who can often be seen playing with Charlie, Gardier is a force unto herself.  Her playing mimics the lyrics so if you know the song you can certainly hum along to it.  Along with Dixon, Gardier helps to add color and texture that a guitar effect or keys really can't.
"Tears of Rage" plays like the way it was done by The Band, as Shawn McGowan's organ almost begs us to hear Richard Manuel's soulful voice, but the way Charlie arranges his songs allows us to imagine almost anyone, including ourselves, belting out the words.
"One More Cup of Coffee" brings a Bosanova or spaghetti western feel.  At just over six minutes it builds in a couple of places but ends up with the song fading into the sunset.  Cheesy, I know, but on instrumental albums you begin to visualize vistas, emotions, colors, people.  You know…or maybe you don't.  Just put this track on, sit in a comfortable chair with your drink of choice. You'll get it.
"I Shall Be Released" is the moment where lightning has struck for a second time on this album: lyrics. Keohane and Whyde bring a very folksy, almost country, feel as the duet along with Gardier's saxophone.  The two vocalists are great on their own but together are well suited as harmonies.  Keohane's talents can also be heard when she brings out her signature sound on the Wurlitzer.
Assembled at Postal Recording, the guys over there have done a great job, and are quickly becoming one of the most sought after recording spaces in the region.
Remember that this album is first and foremost a Charlie Ballantine record.  If you've followed Ballantine at all in the last few years you know that his playing serves the song.  Consequently there are no five minute solos with finger tapping or jumping on stage.    My hope is you have Charlie's other records, but if this is your first you'll pick up the others.
A big thank you to Charlie Ballantine for letting me review this record and be a regular fly on the wall during his last couple of records.
Photo by Tim McLaughlin of Hapless Guitar Photography

Zionsville resident Tim McLaughin considers himself a documentarian behind the shutter. The owner of Hapless Guitar Photography, he enjoys shooting music and sports related photos, and as he likes to say, "almost anything."