Discover more from National Road Magazine
The best place is the world.
Songs You Should Have Heard (And My Peter Gabriel Story)
National Road's
Mark Wright shares his 1973 happenstance encounter with a young, up-and-coming rock star who would one day dominate a generation of music.  The best part of the story: even people with the craziest lives and the weirdest haircuts can still talk to anybody as if they're ordinary people.
by Mark Wright photo credits below
[dropcap]F[/dropcap]lipping through my Dish network channels this afternoon, I came across "Peter Gabriel live in Verona," a concert recorded in 2010 in, duh, Verona, Italy, with Gabriel performing with a full orchestra.  It was lovely, beautiful, brilliant, and mesmerizing.  Another page in book of Gabriel, a tome he has added to the world's library of creativity, entertainment, and passion.  It has inspired me to contribute to our "Songs You Should Have Heard" feature, but mostly to use that vehicle to tell my Peter Gabriel story. I'm not going to go through Gabriel's bio; his brilliance is internationally recognized—three Brit awards, six Grammies, thirteen MTV awards, several lifetime achievement awards from various organizations, a Man of Peace award from the Nobel Peace Prize laureates, one of Time magazine's 100 most influential people in the world. His video "Sledgehammer" remains the most-played video in the history of MTV.  Yet many I know are largely unfamiliar with his work. A stellar example of his talent, and my excuse for writing this column, would be the 1974 Genesis album you should have heard, The Lamb Lies Down on Broadway.  Listen to it.  Listen especially to "Fly on a Windshield" and "Broadway Melody of 1974," in which his haunting voice and lyrical brilliance shine especially bright.  Enough of that. Now for my Peter Gabriel story. Back in 1973, I was a 20-year-old college student, aspiring guitarist, and huge prog rock fan, heavily into mostly British prog bands like King Crimson, Yes, Gentle Giant, and Genesis. My friends and I devoured anything prog we could find, and even regularly bought issues of Melody Maker, a British weekly pop/rock magazine, to keep up on things.  In one of those issues, Bob Herner, Chuck Forsyth, Mike Ray and I discovered Genesis would be appearing at Indiana-Purdue Fort Wayne on December 7, which was like the day after tomorrow.  We had to go. [divider style="solid" top="20" bottom="20"]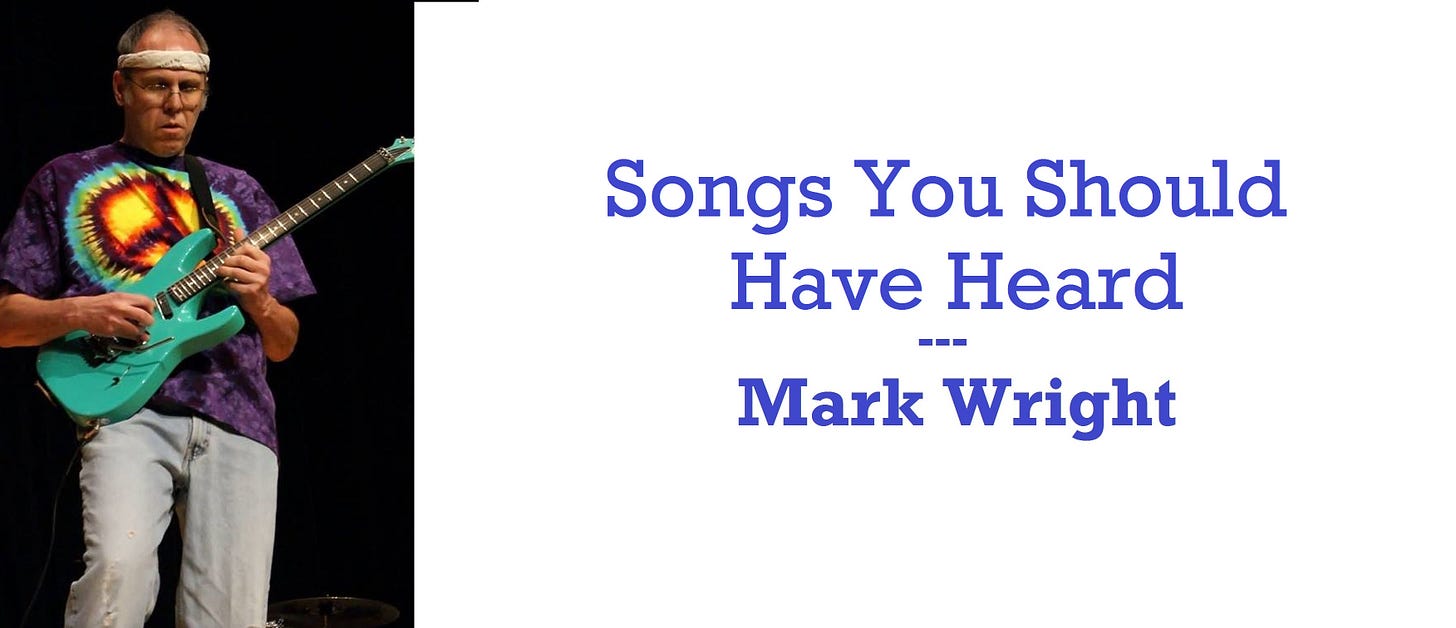 [divider style="solid" top="20" bottom="20"]

[divider style="solid" top="20" bottom="20"] For some reason, Fort Wayne loved Genesis, largely thanks to Slatewood Records. We heard Genesis wanted to do some small gigs before heading onto bigger and better venues, and Fort Wayne had sold more Genesis albums per capita than any other city. So somehow, they ended up appearing there on their first American tour. So we crammed into Bob's VW Rabbit and headed north to a town we had never seen, and four hours later we were driving around searching for IPFW, hoping we could score some tickets. We finally found the campus and what must have been the Union Building. It was early afternoon, and sure enough, a pack of roadies was setting up a small stage in a ballroom that would seat maybe 600 people on the floor.  No tickets were left, but the room was wide open—no security concerns back in those days—so we wandered in like we owned the place and miraculously, I ran into a roadie I knew from Terre Haute who was working the show, and he said he'd see what he could do. In the meantime, we headed down to the grill in the basement to wait and hope. Lo and behold, sitting by himself in a booth, eating a carton of yogurt, was a 25-year-old Peter Gabriel, easily recognizable by his "reverse Mohican" haircut—shoulder-length locks with a slice shaved out of the middle. The four of us looked at each other like 5th-graders spotting Justin Bieber; our balls grew large and we approached him and mumbled what huge fans we were, fully expecting him to tell us punks to get lost and leave him alone.  Most graciously, he smiled and humbly asked us to join him.  When we told him we had driven 200 miles to see his band, he seemed genuinely flattered and impressed. He pulled out four stage passes and handed them to us.  Damn. So we sat there and made what must have been inane comments about his band for a while, until, probably bored shitless, he noticed the pool table in the middle of the grill and asked us how to play.  "Come on, we'll show you."  So he and Chuck took on Bob and me in his first-ever game of 8-ball.  To this day, I remember a comment he made after slopping in a ball on a horrible shot: "I made that with the subtlety of a sledgehammer, didn't I?"  Ha.  I like to think I am partially responsible for the birth of the song that would end up being the most-played MTV video ever. After his billiard initiation, he said he had to head back to his hotel. But he added, "We're staying at the Sheraton. Why don't you come back to the hotel after the gig tonight and we'll visit more." He gave us his room number, and we stood there, probably drooling.  This day was going well. We showed our stage passes at the door that night, but there was no room to be on the actual stage, which was simply a few risers to get the band three feet above the crowd.  There were no chairs—everyone was sitting on the floor. So they took us to the front of the crowd, right in front of the risers, and sat us there, where we would be five feet from Gabriel the entire concert. The lights dimmed, and the subtle mellotron fade-in of "Watcher of the Skies" began, giving way to Collins's hypnotic drum beat and staccato Hackett guitar notes, and suddenly a man in a crazy batwing suit appeared before us. Our mouths hung open, village idiot-like. [divider style="solid" top="20" bottom="20"]
[divider style="solid" top="20" bottom="20"] [divider style="solid" top="20" bottom="20"]

[divider style="solid" top="20" bottom="20"] We knew every song, every costume change. Gabriel smiled and pointed at us at different times throughout "The Musical Box," "The Cinema Show," "Firth of Fifth," "I Know What I Like," "The Battle of Epping Forest." Finally came "Supper's Ready," my favorite.  And at its climax, at the point where he sings, "And it's, hey, babe, with your guardian eyes so blue," that 20-foot long tray that was right at eye level two feet in front of our faces exploded with flash powder, between the "it's" and the "hey."  It was ten minutes before I could see again, and the concert was over. I know, I am gushing, but it was a helluva night. It ended with us going back to the Sheraton, riding up the elevator with Phil Collins and Mike Rutherford, and spending three hours in Gabriel's room chewing on ginseng he had brought with him and discussing songwriting and lyrics and music. He was a regular guy, just like us, only nicer, and on the cusp of achieving his dreams, of becoming a musical icon, political activist, and one of the "most influential people in the world." I would have taken some pictures had I known that. And had a camera.  And had some sense. In those first five years of the seventies, I saw some powerhouse bands in concert—Hendrix, Zeppelin; The Who; Steppenwolf; The Band; Chicago; Frank Zappa; Yes; King Crimson; Emerson, Lake, and Palmer; Jethro Tull; the Mahavishnu Orchestra; et al., but no night will ever match that one lucky Fort Wayne adventure. I would see Genesis five more times over the next six years, including the stellar Lamb Lies Down on Broadway show at the Indianapolis Convention Center.  Gabriel left Genesis after that tour and embarked on his prolific solo career. He continues to add to his amazing legacy of music and political activism.  Interesting man; check him out. And I got to shoot a game of pool with him. [divider style="solid" top="20" bottom="20"] [author title="About Mark Wright" image="https://gyrewide.files.wordpress.com/2014/01/mark-wright-2.jpg?w=225&h=201"]After almost 40 years teaching high school English—most of them at South Vermillion—Wright now teaches composition part time at ISU. A member of the Wabash Valley Musicians' Hall of Fame, Wright and his Band—The Crowe Committee—have become a popular attraction in the Terre Haute music scene. [/author] [divider style="solid" top="20" bottom="20"]
Photo Credits:
"Record" by Gavin St. Ours is available via the Creative Commons 2.0 Generic License GENESIS (Peter Gabriel)  by Jean-Luc Ourlin is available via the Creative Commons 2.0 Generic License
[divider style="solid" top="20" bottom="20"]