Discover more from National Road Magazine
The best place is the world.
Vincent Aguirre: A Life for Himself
by Donovan Wheeler photos by Piper Voss
Vincent Aguirre's story begins at the end.  Pick any end you want: his graduation from DePauw University; his decision to leave his stable Chicago job and come back to Greencastle; his business breakup with college friend and WynWay partner, George Velazquez; his decision to rebrand his consulting firm as Distinct Web Design.  You can call each clause in that sentence-long biography a "chapter," or you can call each one a "rung."  The semantics matter less than the person they describe, and while each moment in Aguirre's story has shaped and transformed the businessman and entrepreneur, none of them have changed the man himself.
Walk into Starbucks, and you'll find Aguirre sitting over his laptop.  To his left, within easy reach, his latté waits for him.  To his right, within easier reach, his phone chirps and buzzes, pulling him away from his laptop screen for a minute here, ten minutes there.  If he was facing a deadline, you wouldn't know.  If he had just lost a big account, you wouldn't know that, either.  And if he'd landed the biggest sale of the year, you might know, but you'd have to ask him point-blank to confirm your hunch.  Be it a glance cast toward him from the serving line or a lengthy conversation sitting beside him, Aguirre's more than adept at putting up the same front.
It's an affable front.  Youthful and brimming with a kind of optimism that can be contagious on most occasions, and maybe irritating when you're inner Sigma-male is needled-out at "full cynicism."  Not that it matters to him.  If you want to embrace his demeanor, and make it part of your day…good for you.  Vince is happy to oblige.  If you're determined to grouse your way through every hour of daylight, that's fine as well, but don't expect Aguirre to commiserate.  He is, in fact, so disarming that, if you didn't know he was an entrepreneur, you would think you were in the presence of a pastor—a man who had devoted his life to providing inner peace for those who stood around him.  Aguirre's reassurance, is of a more potent form than a mere man of God.  Aguirre is a man of opportunity, and nothing—nothing throws shade on opportunity.  Should you be standing beside him when the North Korean missiles soar over your head, he'll tell you that the trajectories are all wrong and that everything will probably work out…and you'll believe him.
He arrived in Greencastle the way many people do: as a college student.  He liked it here.  In his mind the town had a good deal of promise and loads of appeal.  But like most DePauw grads, when he clasped his degree, unzipped his gown, and tossed aside his mortarboard…he headed home—in his case back to his Chicago roots.
"For over a year I avoided alcohol. Not because I had a problem but because I recognized that my livelihood would be based on my productivity and that one day of being hung over would cost me a day of work which could cost me maybe my rent for that month. I was probably overly aggressive in my planning. I would wake up early every day go downstairs start working just trying to find ways to find more clients to make more money."
Photo by Piper Voss
Please consider supporting the Greencastle Arts Council by becoming a member. See the Greencastle Arts Council's web page for details.


"I was working in consulting," Aguirre says explaining why he came back to Greencastle.  "At some point while I was working there it just hit me that I wasn't happy even though I was making more money than anyone in my family. That was because I started to realize that the lifestyle in Chicago just wasn't for me anymore. Waking up to catch a train, [fighting] weather that is either too hot or too cold, sitting in front of this desk for seven hours a day… The job is great: we had foosball, we had beer and ping-pong, we could get up and take breaks whenever. But just being in front of a desk not talking all day was killing me."
"Eventually I pinpointed that I just didn't like being there," he explains. "I didn't like the traffic, I didn't like the taxes. And in learning more about the history of Chicago [in particular] the history of its segregation… [I was] living in an area that I never imagined living in, but I hated it because I knew that it was segregated a hundred years ago."
Happening upon his old fraternity advisor, Steve Jones, during a visit to his alma mater, Aguirre made it clear that, if Jones could score him a campus job, he would consider coming back to Greencastle.  But he wasn't on the DPU clock for very long before the same sense of office confinement squeezed him in from every side.
"Gradually I got tired of the bureaucracy," Aguirre says. "I like to think I'm a risk taker, and I really couldn't do that at DePauw. So I slowly considered leaving and jumping into the business."
The business he refers to was the all-things computer emporium that was WynWay.  It unfolded first among friends in campus housing, but eventually moved to an old Victorian three-story sitting along Greencastle's Washington Street.  With Velazquez and other mutual acquaintances Aguirre and partners developed an operation which offered everything from cell phone and PC repairs to full webpage design.
I don't know how far along the pair were when I met them in early 2015, but I remember the chemistry.  Sitting around the conference table in the upstairs meeting room above the coffee shop, they laid out WynWay's mission and told us their story.  They parried our questions as a team, deft exchanges of eye contact signaling who needed to serve up the answers, which were just as adeptly cemented with follow-up comments adding context and clarity.
After the meeting I joined them for a tour of their new digs.  That Victorian edifice—once the offices of a long-standing group of accountants—echoed as I walked through it.  The folding chairs, and collapsible long tables spoke of youth and transition, but they offered the promise of the mahogany desks and leather rockers which would surely follow.  One wall, every inch of it converted into a whiteboard, displayed the energetic spontaneity of brain-storming wunderkinds.  And tucked into a small cavity no bigger than a closet, an upright arcade style video game (they hadn't got it working at the time, but they were close) reminded me that in many ways a pair of boys still hunkered in the cerebral cortexes of these two young men.
Much has changed in the three years which have followed. WynWay is gone, the building now empty.  More importantly, Aguirre himself walks the streets of Greencastle a man seasoned by his ventures.  He could have opted for the safe route—after all, he sat on two safe gigs since finishing college.  Instead he opted for risk and has both won and lost along the way.  Such is the life of the noble entrepreneur: wizened by his failures, buoyed by his successes, always learning from each experience.

We are proud to work with Vince Aguirre and Distinct Web Design.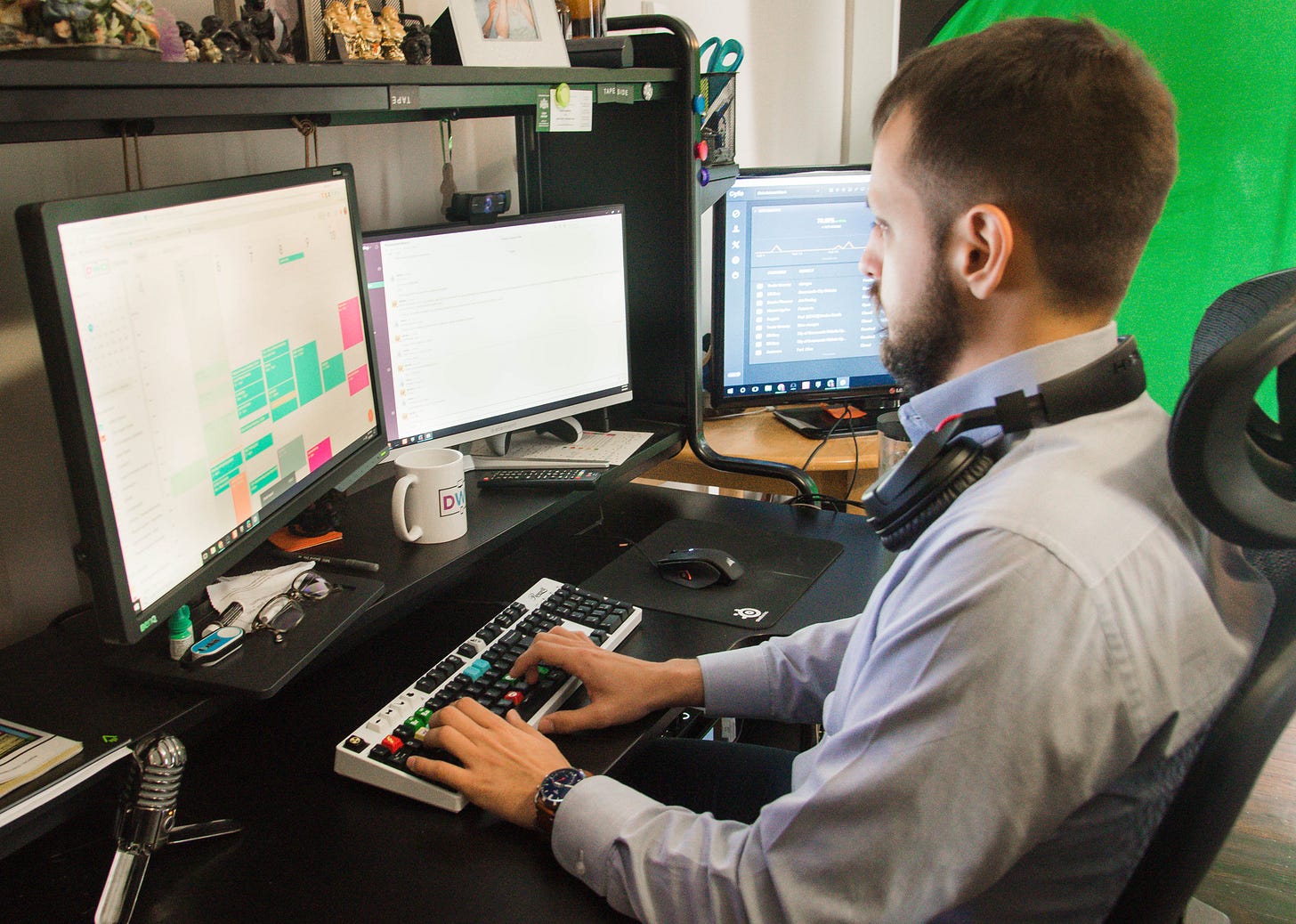 Donovan Wheeler:  Given what happened with WynWay and your friendship with your then partner, what advice would you give to a pair of good friends who were thinking of going into business together?

Vincent Aguirre:  "I would encourage them to think really hard about it. From the point where I moved back to Greencastle, we had six people involved with WynWay. Quickly, we removed two of them which caused some hardship, but it was a matter of their skill sets not being needed..  Of the remaining four, one partner just wasn't doing the work, so we bought him out. Five months later we decided to split the company. I felt that my full-time employment was hanging on this, so I had to do was right for me. It caused heartache.  We initially talked after that, but it degraded over time. Now we don't talk at all."
Wheeler:  So now you're untethered.  You reorganize—and rebrand—yourself.  Under your new moniker, 25/7 Consulting, you experience a handful of successes, but more frequently than not you find yourself chasing leads which fizzle.  Why do you think that phase of your entrepreneurship never quite got its legs under it?
Aguirre:  "The thought at the time was that the company would be something more than just web design. The goal was to try to focus on getting people more time in the day…finding ways to automate and help them improve.  Part of the problem is that the concept was so vague that it probably hurt me in terms of selling websites and online marketing. I think I was just being really ambitious. I would look at myself and I thought at the time that my strengths were finding ways to make things easier or faster. But conveying that idea was just too hard with no niche. I had no specific services which I tried to provide.  It was just, 'Come work with me! I'll help you be better and faster!'"
Wheeler:  In what ways did the 25/7 experience produce results?
Aguirre:  "It worked for one client. I still work with the National Center for College Costs, and I think if my company name involved web design I probably would've never ended up working with Dave Murray. But that's the only real success because of that name.  I was really opposed to the idea of targeting a niche for quite a while. When I would meet with Ken Eitel he would always push it on me, and I would push back. To me finding a niche meant I was limiting myself. What I didn't understand at the time was that you can still take on other niches if your marketing is focused on something specific. I didn't realize that if you're doing good work for one niche, then word will spread, and then you can take on work for other people.  So now, with Distinct Web Design, I'm trying to focus just on web design and marketing. I'm not trying to be everything for everybody."
"For me I think I'm uniquely fit to live in a small rural town, especially one like Greencastle. It has enough of an urban feel for me, especially now with the different restaurants, bars, and shops. But it still has that community feel."

Wheeler:  What would you say to someone who went through a similar "branding" experience such as yours?  Were you worried that it would affect the way that prospective clients would view you in terms of stability?

Aguirre:  "The re-branding was a factor but it can be overcome. I definitely regret it. I would not sit here and say that I'm happy it's happened. But I think the positive flip on it is that it's built up my brand as a person. Where everything else has kind of come and gone, people refer to me as me now. So when people ask, 'Who works on your website?' Their answer is, 'Vince.'  So I think locally, in the long run, it's OK because I'm building my personal brand. And outside of the community it doesn't even matter."
Wheeler:  As you are in the year-and-a-half long process of evolving from 25/7 to DWD, you took a couple of risks…one of them a big one.  Explain the snags which forced you shelve your co-workspace, Launch Putnam County.
Aguirre:  "Launch was kind of riding on the excitement of co-workspaces in Indiana.  In talking with business and community leaders I really felt like there was a huge need for a shared working space in town. We decided to take it on because we (Aguirre and then business partners Andrew Smith and Michael Woodsmall) thought, at worst, we would end up with an office. If no one ever joins we at least have an office. But at best we have the space that the community can use.  We also believed we could use its network to help engage and educate people, but really it would've been a community space."
Wheeler:  So what happened?
Aguirre:  "When we opened it, we thought we had more time to run it, but things started changing. Finances were going to get tight. Personal finances were going to tighten up. My rent was going to drastically increase in the coming year.  We probably cut it off a little prematurely. I think we had a shot at getting the membership we needed to sustain it, but at that moment when circumstances changed, we looked at the numbers, and it was too big of a risk. It would've blown everything up, and I would not be here… Could not be here.  Looking back, I'm glad we [closed], because sales at that time went down dramatically. With all the added expenses it would've needed, that would've been horrible, horrible year."
Wheeler:  Why do you think it struggled to catch on in Greencastle?
Aguirre:  "I knew we would need at least a year for it to reach where it would need to be. We didn't give it a year. We gave it four good months of marketing and six months being open. Other communities also run theirs as 501 C3's and heavily finance them through corporate donations. We had some of that: Comcast and the city had given money, but we opened ours as an LLC for the sake of simplicity…and to test the theory [of whether it could work as a business]. We anticipated spending the money, but we didn't anticipate the cash flow issues which cropped up on us."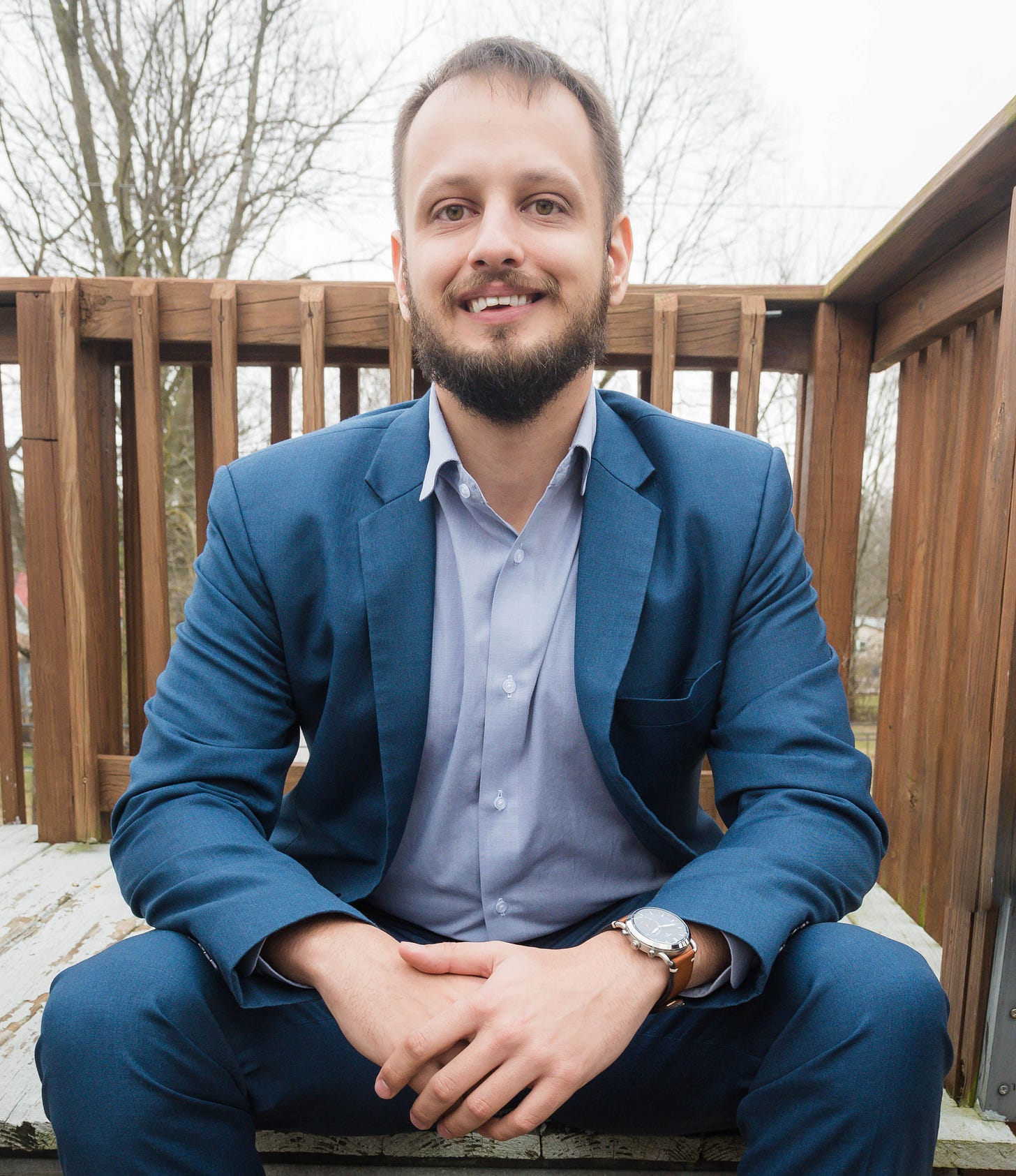 Wheeler:  So timing was a factor?

Aguirre:  "Yes.  After we decided to close down, about six people called and asked to sign up. If that would've happened [a few months earlier] then things would have been different. We just ran out of time. I still think that, for those members who signed on, it would've been a useful experience. We needed to get that critical mass of people who would use the space and be excited about using the space… We just didn't have time to get there."
Wheeler: Were there any other factors which hampered its development?
Aguirre:  "Co-workspaces that succeed have a ton of programming involved to showcase the benefits of the space. Launch Fishers—which is the state benchmark for this thing—runs all kinds of programming. For example, here in town the Public Library hosts coding workshops.  This is something a workspace would typically take on, but we didn't because we didn't want to step on their toes."
Wheeler: Your other big venture—happening at about the same time as the co-workspace—was your rollout of GoPutCo, what was the concept you had in mind?
Aguirre:  "We thought of GoPutCo when we first started working with the Chamber of Commerce, before Brian Cox started working there. And we realize that no one was the community hub for what was going on. At the time the County Visitor's Bureau (CVB) was in turmoil, the Chamber wasn't focusing on it, the city wasn't focusing on it, so we thought we would take it on and try to develop this community calendar. But by the time we launched that calendar Brian Cox had been hired (and was doing great work), the CVB had been reformed, and both were working on calendars of their own."
Aguirre:  "So, by the time we launched, there were a lot of people pursuing the same objective. It definitely hurt our value proposition. The goal was to be THE place to go for events and find out what was going on, and then we would find ways to monetize that. By the time we were ready to launch it, there were already talks from all these other sources who are planning to do the same thing. Given that both organizations held more official statuses within the community, it was hard to establish GoPutCo as THE place."
https://www.youtube.com/watch?v=r6K3vdL4Tuk


Wheeler:  Of all the places you could have gone, especially given that you grew up in Chicago, you came to Greencastle.  Why?

Aguirre:  "For me I think I'm uniquely fit to live in a small rural town, especially one like Greencastle. It has enough of an urban feel for me, especially now with the different restaurants, bars, and shops. But it still has that community feel. There's enough to do here for my day-to-day life, and everything else that I need can be supplemented by a short drive. People always questioned me: 'How long are you going to be here? How long are you going to be here?' And my answer is that I want to live here forever. I can see myself doing that because, if I want to go to Chicago that could be a day trip. Indy is not far, Terre Haute is not far, St. Louis is really not that far, Cincinnati is not that far, nor are Louisville, Evansville, or Fort Wayne."
Wheeler:  That explains the geographical benefits of living here.  What else draws you to this point on the map?
Aguirre:  "So for me, why not live somewhere where the community is amazing? You can literally go anywhere and see somebody you know. It has a low cost of living, and you just have everything you need on a day-to-day basis. I don't need nightclubs. I don't need to party every night. I do like culture the arts and what not, but I don't mind driving an hour to do that because that's not something that I'm going to do every night."
Wheeler:  Your primary business prong is DWD's website development and maintenance program.  So tell me:  what should a good website do?
Aguirre:  "A good website, really depends on the business and that organization's needs. But at its core every website should do two things: it should be a beautiful representation of the business, but it should also convert on their sales goal or their goal in general. In most cases, from the business to business perspective, that means getting new leads and convincing the person who's looking at your website that you were the right company for their needs. So for me my website needs to convince people that I know what I'm talking about when it comes to web design and digital marketing, and I need to give them the ability to give me their contact information. If I'm not doing that I'm not making money."
Aguirre:  "Beyond that a website is really your home base for all of your marketing needs, and I think a lot of people are really missing that. If I could teach everyone one quick tip about the website, it's that it allows you to track who has been on your website and then market to them specifically. So if you just have a Facebook page or all you have is a Wix website and trying to market that, nothing is going to come out of that specifically."
Wheeler:  What does that mean? To "market" a website?
Aguirre:  "Say you're on Amazon, and you're looking at treadmills.  For the next week-and-a-half all you're going to see are treadmills.  Everywhere you go online, there they are.  Eventually you're going say, 'Big Brother is following me, and they always know what I'm looking for.'  That's what you're able to do if you have a website.  If your service is ice cream, and someone looks at your website, but didn't actually come in and buy your ice cream, they will see ads for your ice cream for the next week, prompting them to come in and buy."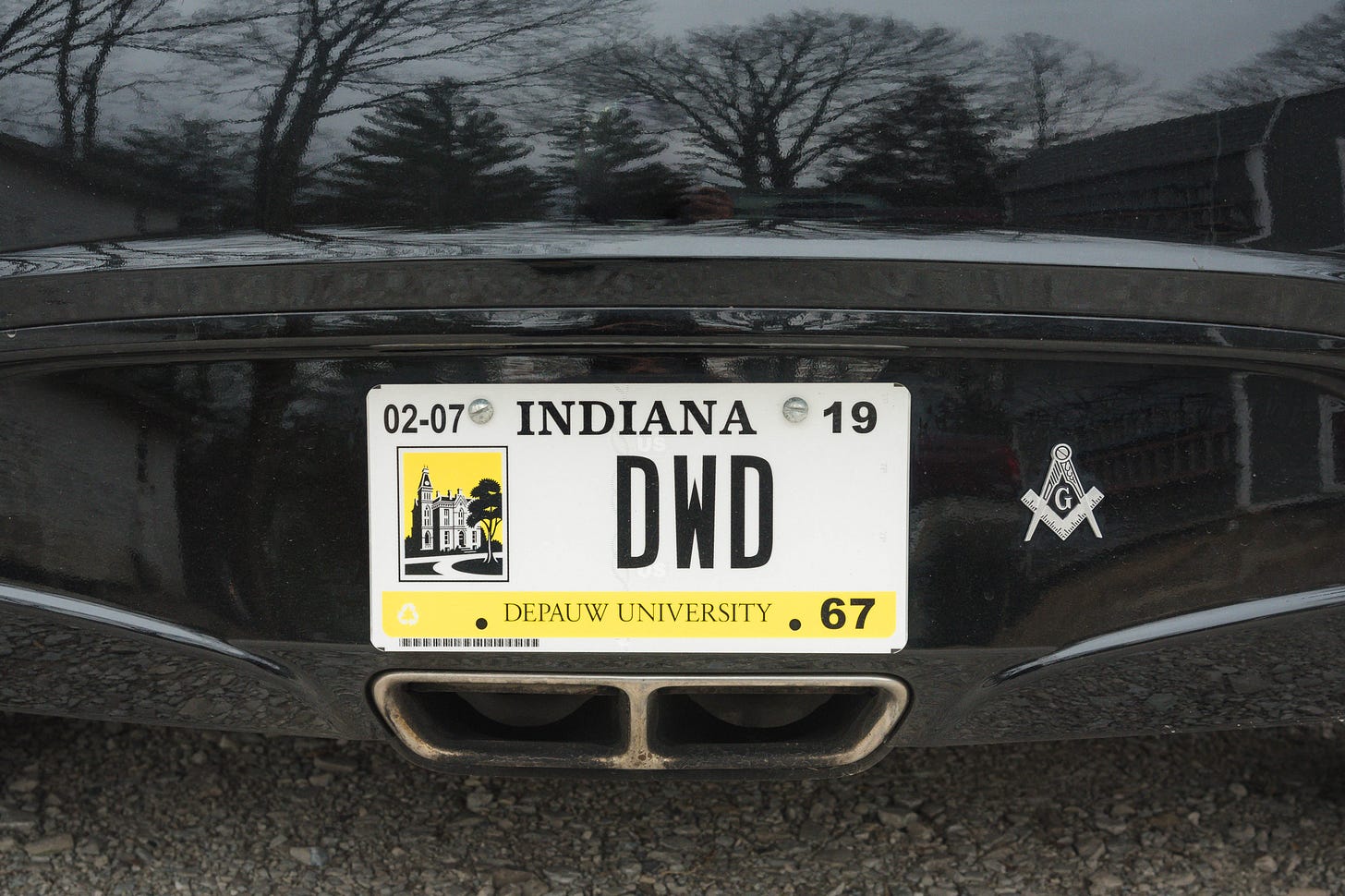 Wheeler:  You've spoken earlier about the importance of settling on a niche.  Where did you end up in that process?

Aguirre:  "My hyper-focus niche—which does not mean I can't work with other businesses—is funeral home websites.  Actually I attended a conference in February run by the Indiana funeral home directors association."
Wheeler:  That's an interesting choice.  Why that one?
Aguirre:  "I like working with businesses that are locally owned.  A lot of funeral homes aren't, so you have to go out and find the ones that are.  I like working with businesses that have been around and are established, and most funeral homes have been around for a long time.  Funeral homes are high-income, meaning if they're open they're generating income.  And funeral home operators are good at paying their bills.  So I looked into what segment of local businesses fit those criteria.  I also asked myself: what businesses in this segment need my service?"
Wheeler:  And funeral homes….?
Aguirre:  "When it comes to funerals, that family is doing this as a one-shot thing, and often—unless they already know where they are going to have their service—they need to find a place quickly.  That could be word-of-mouth, but it could also be a Google search.  And many of the services I provide to other business apply to this segment, too: running ads as I talked about before or optimizing your website so that it's search-friendly and comes up near the top of a Google search."
Wheeler:  You have also diversified, if we can call it that, by working in real estate.  What led you to that field?
Aguirre:  "I've always believed in multiple sources of income, and real estate was an appealing option because it afforded me a flexible day-to-day schedule and the ability to pick and choose clients.  It's another business area where I learn and grow while giving me another source of income as well. It complements web design in many ways, and it allows me to improve my marketing skills."
Wheeler:  Tell me a little bit about the pros and cons of being your own boss.
Aguirre:  "The benefits are that I have the ability to try things.  If I'm going to fail, I can fail quickly.  I can test a theory, see if works, and move on if it doesn't.  Whatever happens…success or failure…it happens on my own merit."
Aguirre:  "You also get to control your income in a manner of speaking.  If I work twice has hard in a standard, non-commission 9-to-5 job, that extra work won't change your income…unless you happen to catch your boss' attention.  But here…if I work twice as hard doing web design I can almost guarantee you that I'll make twice as much money."
Aguirre:  "The other advantage is that I get to structure my day.  When my cash flow had tightened up in the early phases of this, I contemplated going back to work in a 9-to-5 office setting, and the biggest factor which crushed my soul was thinking, 'How do I balance 20 vacation days a year…if I'm lucky?'"
Wheeler: And the drawbacks…?
Aguirre:  "There are many drawbacks.  Accountability is one.  If you have income, it becomes easy to slack off, which only hurts me in the long run whenever the income I had been riding on goes away."
Aguirre:  "Working from home can also get extremely depressing.  I've gone three or four days without leaving my house, because I didn't need to.  Then I would realize: I have seen another person in three days.  And income sources are not predictable, and that creates a lot of stress.  If you hit a period of time where it seems like the end is near…?  That drains you."
[dropcap]F[/dropcap]or the most part, that nagging question—are you really going to stay in Greencastle?—has faded.  From the development of his business ventures, his work with local charitable organizations, his roles on city and community committees, and his long-term relationship with his girlfriend, Aguirre (who still has a couple years to go before he reaches age 30) has buried his stakes about as deeply as any 21st century American can.  No one doubts his success as he plods along growing his business and developing his brand.  No one also doubts that the next time a risky, eyebrow-raising idea crosses his mind, we won't hesitate to try it.  Whether those side projects fail or take off, it really doesn't matter.  All that matters is that, when he tallies up his efforts, what's on his ledger is his to own.  He is an entrepreneur, after all…that's what they do.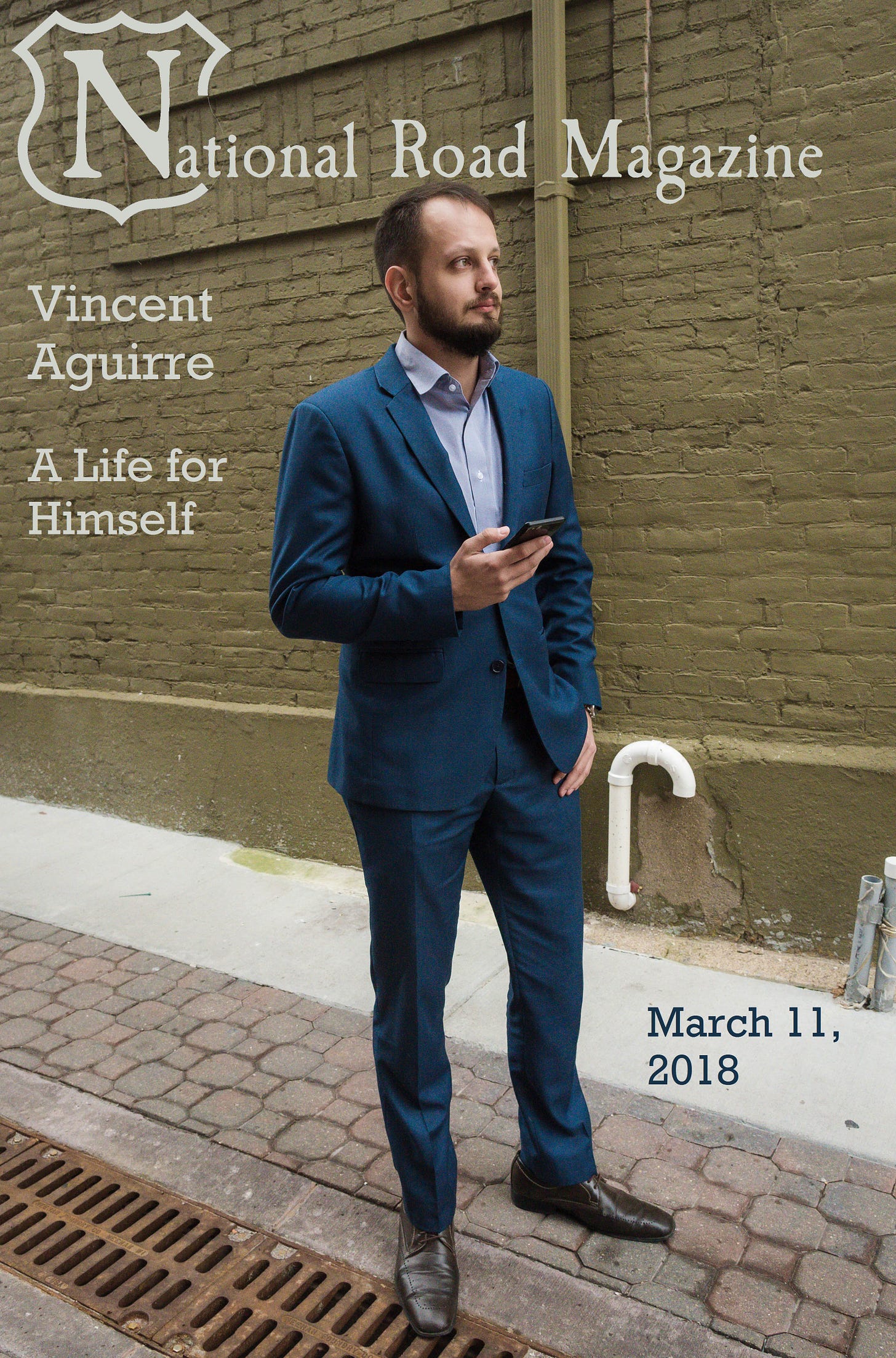 [author title="About Donovan Wheeler" image="http://nationalroadmagazine.com/wp-content/uploads/2015/06/Me-Profile-150x150.jpg"]Wheeler proudly teaches AP Language to some bright and lovably obnoxious kids in a small college town. He also contributes to the craft beer website Indiana on Tap and writes for ISU's STATE Magazine. He started learning to play guitar last fall, but he remains terrible at it.[/author]

A Greencastle native, Piper Voss attended Indiana University and currently lives in Indianapolis with her husband and son.[/author]