Discover more from National Road Magazine
The best place is the world.
Why Lukas Nelson Won My Loyalty in Terre Haute
Lukas Nelson could have used his name and bypassed every small-town joint in the world.  Instead, he honed his skills in the places most of us haunt.  For that, he deserves our respect.
photos by Joey Martin Terre Haute's Verve Nightlclub sits along Wabash Avenue.  Two-and-a-half blocks to its north—in Indiana State University's Hulman Center—Larry Bird argued that with some talent and hard work, anyone can make it.  Five blocks to its east—in the Vigo County Courthouse—countless souls have countered that in a depressed economic area, making it is (on average) pretty fucking hard.  The Verve is a unique place, primarily because it doesn't feel "Hautian" …not completely at least.  I have no idea how to describe that feeling.  Terre Haute is a place where the ghosts walk alongside you in broad daylight.  It's a place that dominated the world at one time or another in everything from making beer to cranking out CD's to executing home-grown terrorists.  It has died and been resurrected dozens of times. For a long time—including every year I lived there—the downtown was door-nail dead.  A dried-up husk killed by the Interstate and the shopping mall and an Applebees or two.  The Verve, however, is one of those joints which has fought to bring the downtown back.  I certainly felt that vibe in the spring of 2011, when my fiancée, Wendi, and I parked a few blocks off Wabash and walked to the nightclub so we could catch Lukas Nelson and The Promise of the Real. The Verve's stage looks exactly the way a good night-club's stage should: ill-fitting and so preposterously awkward, that it's magnificent.  It's stuffed so far in the back the stage lights glow like that single lantern in The Old North Church, cutting through a darkness wrapped in (back then) wall carpet, deep blue paint, and the iridescent sheen of phone-lit faces.  A pillar secures one corner of the stage, a wall banks the other, and speakers frame what's left of the space in between.  As the lone front-man, Nelson took his spot between the array—his bandmates blending into the shadows cast by the obstructions.  Wendi and I planted ourselves some eight feet away, maybe a foot or two outside his left shoulder. Standing barefoot with his bassist to one side of him and a percussionist working a pair of conga drums to the other, Nelson energetically led that night's version of The Promise of the Real through a resoundingly kick-ass performance.  It was an effort punctuated by Nelson's sense of grit and will.  He took his work seriously, and he did so like a master craftsman out to please his fans.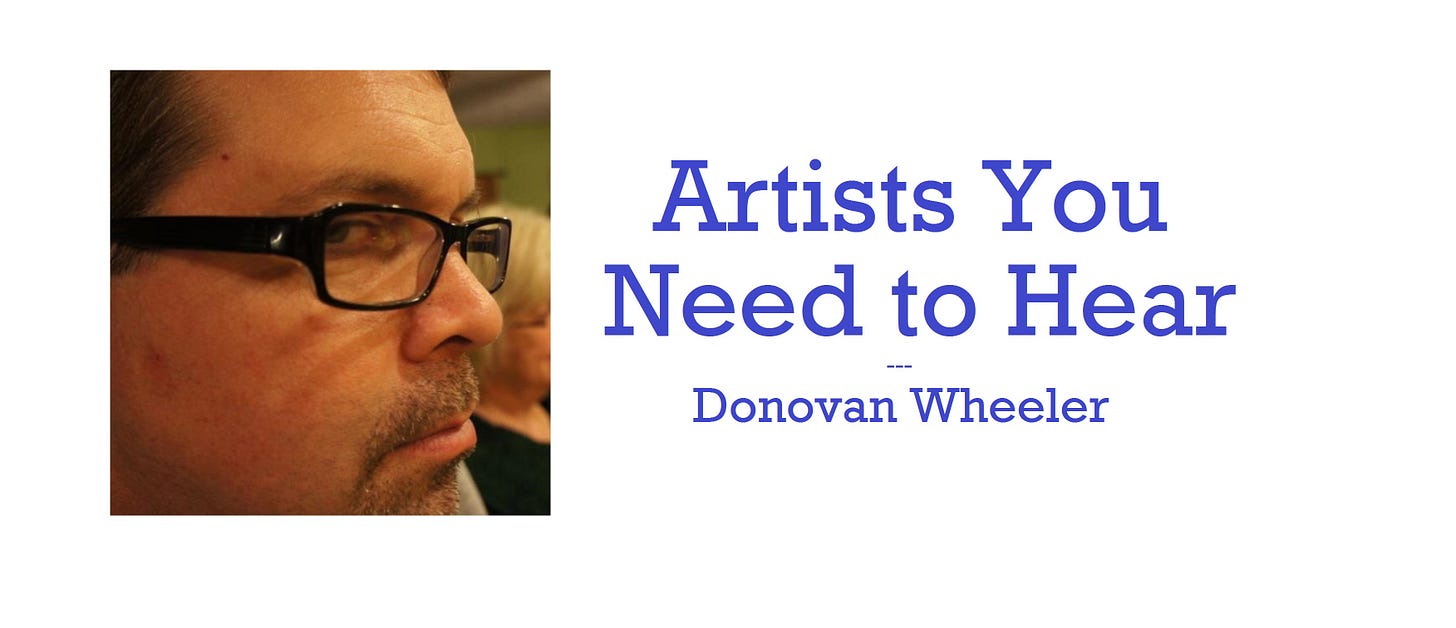 If Lukas Nelson were any of the hundreds of local and regional musicians out there, trying to cut their way through all the noise—trying to stand out among a "ga-jillion" Spotify options and all those clubbers more interested in their Snapchats than the music—I would have admired the hell out of him.  A begrudging nod of respect, sympathy, and solidarity from one defiant nobody to another.  Lukas Nelson, however, isn't a fellow nobody.  We all knew who he was when we walked through the Verve's doors that evening, and no doubt most of us were driven there by curiosity …or by the novelty of it …or by the rare chance to get just one tiny degree of separation closer than we'll ever get again. But when I listened to that gig, something was happening to me.  I just didn't appreciate it at the time.  It's only now, after telling the story of one Hoosier singer-songwriter after another, that I realize that by the end of his first song that night I had stopped listening to Willie Nelson's son. Nepotism has always been part of our lives—one of those lingering earmarks of our feudal past.  My favorite football team is owned by the son of the guy who owned it before him.  Some of the richest people in this country right now are named Walton.  Even my own state representative is the son of the fellow who held the seat before him.  For all our grandiose talk about "bootstraps" and "merit" and "hard work" …we are very much fans of big names.  I don't have one of those.  I suppose I could dig deep into the internet and somehow finagle a blood tie to the Anti-Temperance Movement's Wayne Wheeler, but …no thanks. Instead, one of my grandfathers came home from World War II, bought a farm the size of my den in one of the most remote corners of southern Indiana, and peacefully tilled away at it for the rest of his life.  My other grandfather dreamt the big game.  He even built a golf course hoping to climb the social and economic ladder.  Didn't happen.  And my dad…?  My old man worked his ass off on rooftops in 100-degree July afternoons and under crawlspaces in 10-degree January mornings.  He spent his adult life up to his elbows in concrete, mud, and shit. A lot of the musicians I work with and write about are folks who remind me more of the men who raised me than they do famous troubadours and recording legends.  They travel the Midwest in tiny vans. They plug in their soundboards and their amps, praying they don't hear a pop and see curly-q's of smoke wafting from a knob.  They play songs they've spent six months writing and rewriting, recording and mixing with all the anxiety and hope of a shopkeeper expanding his business or a parent caring for his small child.  And when they perform it in a half-crowded Friday evening brew-pub, for "fans" who distractedly thumb through their Facebook newsfeeds, they savor those five people who take the time to listen to every note. A generation ago, someone from EMI or Atlantic or Sony might have sat in the back, next to the soda fountain and discovered them.  In this post-Napster and uber-post-Spotify world, all of them know that something like that is never going to happen.  They do what they do because the music owns them.  It defines them.  They can't go through life without it, and they'll gladly take every willing set of ears and eyeballs they can get.  If four people applaud with aplomb, then that three-hour drive through the thunderstorm was worth every nerve-wracking minute.
In a world where that name matters way too much, Nelson chose to make it on his own.   He could have bypassed a gig at the Verve.  Instead he spent at least the first half-decade of his career cutting his teeth in front of small, local crowds treading the same boards often used by folk bands who spend their weekdays on factory floors or country acts who must get up the next morning and sit in cubicles. This week, Lukas Nelson and Promise of the Real released their new album.  It's good.  I'll spare you the labored review which reads like a grad school analysis of Yeats or Auden.  Some of the songs have a sort of George Harrison vibe to them—which is fantastically cool and prove to be very pleasing—and other songs still carry that edginess which dominated their first, self-titled collection.  What you think of the record matters less than what you think of the band…and the man.  And what you think of Nelson matters less than what he represents.  And what Lukas Nelson represents, in case you're wondering, is hard work.  He can play on the great stages.  He can stand alongside movie stars on the silver screen.  But to me, Lukas Nelson is that guy who was willing to grind out a Saturday night in a Terre Haute nightclub, playing every song as if he were the biggest show of life.  In a world punctuated too often by shallow ugliness, Nelson's authenticity is trait which never grows old. Wheeler proudly teaches AP Language to some bright and lovably obnoxious kids in a small college town. He also contributes to the craft beer website Indiana on Tap and writes for other publications. He started learning to play guitar last fall, but he remains terrible at it.